Follow us on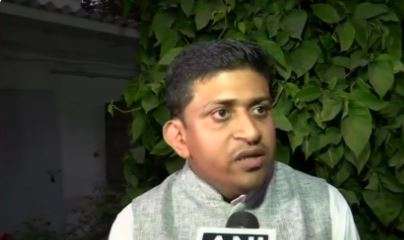 The Indian Youth Congress on Wednesday expelled Aljo K Joseph, the lawyer who represented Christian Michel in court, from the party with imeediate effect.
In a statement, the Youth Congress said that Joseph had appeared in the court on behalf of Christian Michel in his personal capacity without consulting the organisation. 
"Aljo K Joseph appeared in his personal capacity. He did not consult the Youth Congress before appearing in the case. IYC does NOT endorse such actions. IYC has removed Aljo Joseph from IYC's Legal Department and expelled him from the party with immediate effect," the statement said.
Earlier in the day, Aljo K Joseph, lawyer of Christian Michel, the alleged middleman in Rs 3,600-crore AgustaWestland VVIP chopper deal case,  was spotted meeting Congress General Secretary Deepak Babaria at Congress Headquarters here in the national capital.
However, he said his meeting with Babaria has nothing to do with the Michel case.
"I'm an actively practicing advocate. I appeared for him (Christian Michel) in my professional capacity. If somebody asks me to appear on behalf of a client...I've only discharged my duty as a lawyer. It has nothing to do with Congress," he said.
"My relationship with Congress is separate, my profession is separate. One of my friends, who was having some Dubai connections, through him the lawyer in Italy had requested it. So, I was just helping in appearing and assisting him in this matter," Joseph added.
When asked what position he holds in the Congress party, Joseph said, "I am the national in charge for Indian Youth Congress legal department."
The Central Bureau of Investigation (CBI) Special Court on Wednesday sent Christian Michel to five-day CBI custody.
"The investigation is going on, we need his (Christian Michel) custody as money was transferred in two Dubai based accounts," said the agency.
"We need his police custody to confront him with some important documents," CBI Counsel Advocate DP Singh said before the CBI Special Court.
After the court's decision, government sources said that the Centre is ready to "provide consular access to UK High Commission for Christian Michel."
"We are ready to provide consular access to UK High Commission for Christian Michel. We have no objections. Yet until now UK High Commission has not approached the MEA for the same. Due process will have to be followed and CBI will have no objections," news agency ANI quoted government as saying.
"Our staff continue to support family of a British man following his detention in UAE. We're in contact with his family and Emirati authorities regarding his case and are urgently seeking info from Indian authorities on his circumstances," said British High Commission. 
Michel, 54, landed at the Indira Gandhi International Airport on a Gulfstream jet at 10.35 pm on Tuesday night after which he was arrested by the CBI in connection with the case.
Meanwhile, Michel has moved a bail plea. The court kept this bail plea pending for next hearing. The court also allowed his counsel one hour in the morning and one hour in the evening for consultancy.
The extradition comes as a major boost to the Indian agencies investigating the bribery angle in the contract.
In January, the ED had lodged a request with the UAE authorities for extraditing Michel. Both ED and CBI had filed chargesheets in bribery cases in Indian courts and non-bailable warrants had been issued against the accused. 
Last year, a Red Corner Notice (RCN) was issued against Michel by the Interpol on a request by the CBI. RCNs were also issued against two Italians -- Carlo Gerosa and Guido Haschke -- for their role in the case.
According to the Indian investigative agencies, Michel had received at least Rs 235 crore for ensuring that the chopper contract went to AgustaWestland. He was a frequent visitor to India, having undertaken 300 trips to this country between 1997 and 2013. 
Earlier, the ED officials had said that bribes to Michel were paid through a web of companies located abroad and in India on the pretext of payment for consultancy work. Michel also used his Dubai-based firm Global Services FZE as a conduit for receiving money. 
A CBI chargesheet in the case also named four Indians -- former Indian Air Force (IAF) chief S.P. Tyagi, his cousin Sanjeev Tyagi alias Julie, then Vice Chief of the Air Staff J.S. Gujral and advocate Gautam Khaitan. 
The chargesheet mentioned Khaitan as the "brain" behind the deal.
Others named in the chargesheet included Giuseppe Orsi, the former chief of Italian defence and aerospace major Finmeccanica, and Bruno Spagnolini, former CEO of AgustaWestland, apart from middlemen Michel, Haschke and Gerosa. 
On January 1, 2014, India cancelled the contract with Finmeccanica's British subsidiary AgustaWestland for supplying the VVIP choppers to the IAF over an alleged breach of contractual obligations and on charges of paying kickbacks to the tune of Rs 423 crore.
The CBI, which registered an FIR in the case on March 12, 2013, had alleged that Tyagi and other accused received kickbacks from AgustaWestland to help it win the contract. 
(With inputs from agencies)