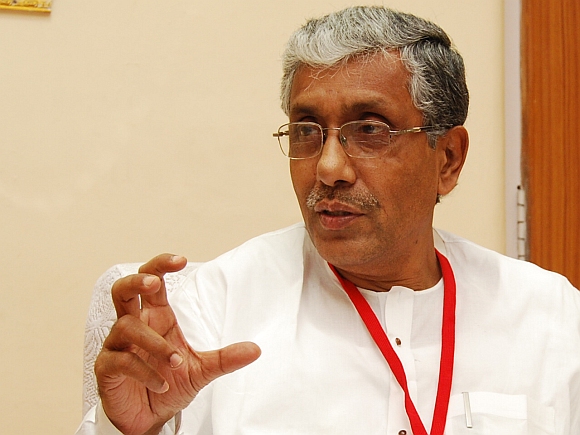 The CPI(M) on Sunday alleged that ministers of the Narendra Modi cabinet were spreading misinformation about its government in Tripura with an aim to dislodge it. 
Senior CPI(M) leader Bijan Dhar told media persons that after the BJP's landslide victory in UP elections, central ministers are deliberately providing imaginary facts about the Tripura government in order to discredit and dislodge it.
"BJP's (Bharatiya Janata Party) central ministers visiting Tripura almost every week provide imaginary 'facts' (about) the Left Front government. The central ministers' slandering is part of their efforts to dislodge the Left government unethically," Bijan Dhar said.  
Dhar said the party's state committee decided on Saturday and Sunday to campaign against the central government's undemocratic steps over the coming months.
"After the victory in Uttar Pradesh, some leaders can dream that they can wash away Tripura's Left parties. This is a distant dream only," the CPI-M state Secretary said.
"When the CPI-M has been demanding 200 days of work in MGNREGA (Mahatma Gandhi National Rural Employment Guarantee Act), the BJP government is trying to scuttle the scheme."
He accused the BJP of trying to break other political parties.
The BJP, however, denied the charges levelled by the CPI(M).
"How the Left Front runs its government in Tripura through illegal means was proved by the judgement of the Supreme Court which cancelled the jobs of 10,323 government teachers," BJP state President Biplab Kumar Deb told reporters on Monday.
The BJP leader said central ministers including Radha Mohan Singh and J.P. Nadda highlighted the failure of the state government in many sectors and non-utilization and misuse of central funds.
(With IANS inputs)