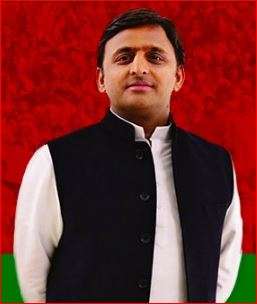 In an interesting development, Uttar Pradesh Chief Minister Akhilesh Yadav today campaigned in Amethi for his party's candidate, state minister Gayatari Prajapati, but did not share stage with him.
Prajapati has been accused  of gangrape and molesting a minor and the UP Police filed an FIR gainst him on Saturday in this case after the intervention of the Supreme Court.
Akhilesh also did not name Prajapati in his speech and sought votes in the name of  the Samajwadi Party.
Prajapati was on stage before Akhilesh Yadav arrived  and wept before climbing down and vowing to clear his name. 
Akhilesh's decision of not sharing stage with Prajapati came after Prime minister Narendra Modi took a dig at himv for launching his election campaign with the tainted UP minister.
"Akhilesh ji, you started your election campaign by campaigning for Gayatri Prajapati... the people of UP want to know if your SP-Congress alliance is as pure as Gayatri Prajapati, " Modi said while addressing a rally on Sunday. 
Ruing the fact that the Supreme Court had to intervene to get an FIR registered against Prajapati, Modi said, "Rapists are given a free hand and women have to knock the doors of the Supreme Court for justice - What work have you done Akhileshji? Your minister is in a rape case. This is not 'kaam' (work) but 'kaarnama' (deed)."
The FIR against Prajapati and others was filed in Gautampalli Police Station in Lucknow on Saturday  under various sections of the IPC and POCSO Act.
Hailing from the backward community, Gayatri Prajapati is defeated  Congress candidate  Ameeta Singh in 2012 by almost 10,000 votes.
UP CM Akhilesh Yadav had sacked Prajapati from his cabinet in 2016 during the family feud with his father Mulayam Singh Yadav and uncle Shivpal Yadav. Prajapati, however, was later reinstated in the council of ministers.