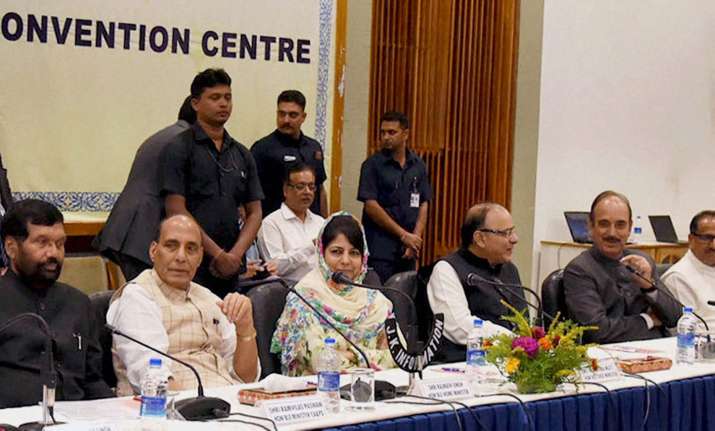 After a cold response from sepratist leaders, a frontal organisation of migrant Kashmiri Pandits has boycotted their meet with the all party delegation in the state ,claiming they were given eight minutes to discuss the current crisis.
Panun Kashmir, an organisation of migrant Kashmiri Pandits, said that they "cannot become part of the drama being played by them with nationalist forces in the state".
"The visiting parliamentarians do not appear interested in listening to the nationalist voices in the state," Panun Kashmir leaders, Dr Agnishekhar and Dr Ajay Chrungoo told reporters in Jammu.
In this context, they pointed out that 12 Kashmiri Pandit leaders representing different organisations, invited to meet the delegation, were allotted "just eight minutes" between 2.55 pm and 3.03 pm, The India Express reported.
How can 12 people representing different political parties and point of views be able to communicate anything coherent to all-party delegation in such short time, they asked. "Certainly we do not have the ability to communicate our view in less than a minute," Chrungoo said, adding that "it means that governments at the Centre and in the state do not want anything worth while to be communicated to the delegation".
Attempts made by a breakaway section of all-party parliamentary delegation to reach out to Kashmiri separatist leaders was met with a cold response as the later refused to either meet the delegation or hold peace talks with them.
During the first day of its visit, the delegation met about 200 members in about 30 delegations from various sections of society and listened to their point of view to reach at a common solution to the current scenario in Jammu and Kashmir, a statement from the Home Ministry said.
The delegation had come here to cool the volatile situation arising out of violent protests that have gripped the Valley since the killing of Hizbul militant Burhan Wani on July 8. The clashes resulting from the protests have claimed 71 lives and injured thousands.