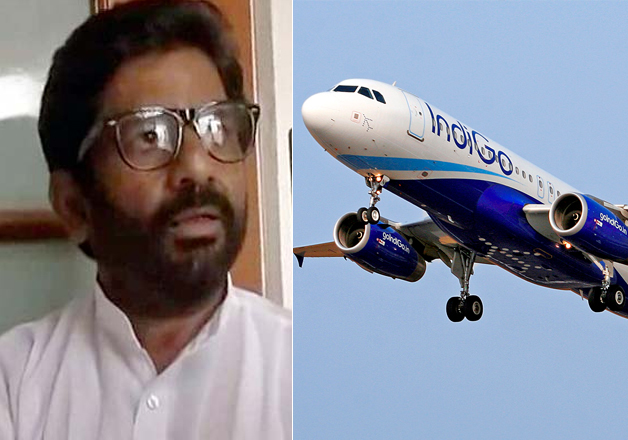 After Air India barred Shiv Sena MP Ravindra Gaikwad from its flights and even cancelled his return ticket to Pune from Delhi, the lawmaker's agent booked a Delhi-Pune ticket in an IndiGo flight this evening. However, the airline too cancelled the Osmanabad MP's ticket, a few hours before the departure.
The MP was first scheduled to take an Air India flight to Pune from here at 4 pm, but the airline cancelled his booking anticipating backlash by its employees.
Immediately after this, Gaikwad's agent made a booking on IndiGo flight for 5:50 for Delhi to Pune. As soon as the booking was made on IndiGo flight, an alert was generated that all schedule Indian airlines have decided not to allow the MP on their flights. After that the airline contacted the agent who had booked the ticket and informed him about the decision. 
Earlier in the day, Air India along with four private airlines banned Gaikwad from flying on their aircraft, a day after he assaulted an Air India staffer. 
The domestic airlines' body Federation of India Airlines (FIA) has taken a 'strong view' of the incident and accordingly taken a decision to bar the MP from flying on their network, FIA sources said. 
Naresh Goyal-owned Jet Airways and three budget carriers --IndiGo, SpiceJet and GoAir -- are the members of FIA. 
Gaikwad is in the eye of a storm for repeatedly hitting a 60-year-old employee of Air India yesterday with a sandal over not being given a business class seat despite having insisted on boarding an all-economy flight. 
The state carrier also got support from IndiGo, Spicejet and AirAsia for any move which bars unruly passengers from flying after Air India said it was mulling preparing a no-fly list for such people in the wake of the Shiv Sena MP assaulting its employee. 
"We will support a no-fly list," IndiGo president and Whole Time Director Aditya Ghosh said. 
Spicejet Chairman Ajay Singh said a no-fly list is needed to bar unruly flyers who are a safety hazard for not only the crew but also for the fellow passengers. 
"The government needs to act on this soon. An attack on our employees and crew is an attack on us and we strongly condemn such incidents," Singh said in statement. 
In its statement, an AirAsia India spokesperson said the airline does not tolerate abusive or unruly behaviour by passengers that puts the safety of other guests and crew members on board at risk. 
"We will support any decision taken by the industry with regard to the recent incident involving an Air India staff," the spokesperson added. 
However, Gaikwad remained defiant, saying he would not apologise to the Air India staffer and blamed him for the incident.