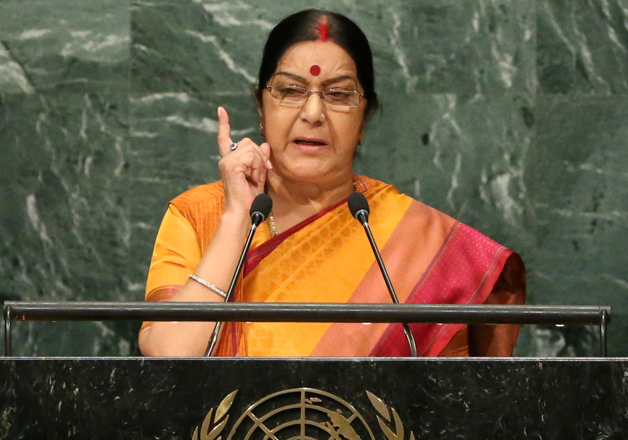 External Affairs Minister Sushma Swaraj's fiery speech at the United Nations General Assembly targeting Pakistan for harbouring and exporting terror won accolades from two quarters that have hardly seen eye to eye. 
Prime Minister Narendra Modi and Arvind Kejriwal-led Aam Aadmi Party (AAP) spoke in one voice praising Swaraj for her speech.  
While BJP and PM Modi said Swaraj had made a 'firm, effective and fine articulation' on a range of issues, the AAP lauded Swaraj's speech, calling her a 'daring voice of the Indian pride'.
"Congrats to EAM @SushmaSwaraj for a firm, effective & fine articulation of a wide range of global issues at UNGA," the PM tweeted shortly after Swaraj delivered her speech yesterday evening. 
Senior BJP leader and Union Minister Venkaiah Naidu said that she brilliantly put forth India's position and exposed Pakistan's evil designs. 
"Hats off Sushma Swaraj ji for extremely putting forth India's point of view & exposing Pakistan's evil designs in such a brilliant manner. We should feel extremely proud of our External Affairs Minister. Pakistan totally exposed," he said. 
"Sushma ji presented India's viewpoint very well at UNGA. Congratulations to her," Delhi Chief Minister Arvind Kejriwal said. 
AAP's Overseas Convenor Kumar Vishwas termed her speech as historic and a befitting reply "tearing apart Pakistan's false propaganda". 
He asked Pakistani Prime Minister Nawaz Sharif to try and understand the realities that Swaraj spoke about in her address to the world. 
Terming Swaraj as one of the finest orators in Indian politics, Vishwas went on to call her the "daring voice of Indian pride". 
Vishwas also praised Swaraj for speaking extempore in Hindi rather than restricting herself to delivering a pre-written English speech. 
The Congress party, however, stood out expressing disappointment over what it termed as a meek response for not calling Pakistan a 'terror state'. 
"Deeply disappointed by EAM Sushma Swaraj's address in UN. Even steered shy of calling Pak a 'terror state'. Strategic ambiguity writ large," party chief spokesperson Randeep Surjewala said in a series of tweets. 
"If India won't determinedly ask for diplomatic & economic sanctions against Pak in UN, who will? Modi Govt again failed us by meek response. Why is EAM Sushmaji shy of calling 'a spade a spade' in UN? Why did we not call upon UN for diplomatic & economic sanctions against Pakistan?" he said. 
Another Congress spokesperson Abhishek Singhvi said whenever an Indian representative speaks on foreign soil, it is not the time for politics as the entire country stands behind him or her. 
"The whole country is with Sushma Swaraj, she did a valiant effort," Singhvi said. 
Swaraj, in a sharp rebuke to Pakistan Prime Minister Nawaz Sharif's "tirade" on Kashmir, said those accusing others of rights violations must introspect. 
She censured Pakistan for the first time at the UNGA for perpetrating the "worst form of state oppression" in Balochistan. 
Taking a veiled dig at Pakistan, the External Affairs Minister said there are nations "in our midst" where UN designated terrorists roam freely and deliver "their poisonous sermons of hate with impunity", an apparent reference to Mumbai attack mastermind and Jamaat-ud-Dawa chief Hafiz Saeed. 
She also made a strong pitch for isolating such nations who speak the language of terrorism and for whom sheltering terrorists has become "their calling card".