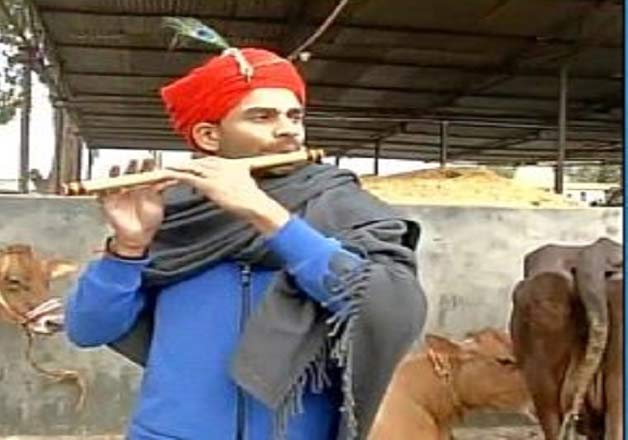 Bihar Health Minister and older son of RJD supremo Lalu Yadav, Tej Paratap Yadav was widely discussed on social media sites for his peculiar get up for new year celebrations.
Not that attention is new to him. After all, he is credited with getting his oath as minister wrong. He also happened to propose horse-riding as a measure to cut traffic and pollution in the state.
So, it shouldn't come as much of a surprise that when the Junior Yadav decided to don the attire of Lord Krishna, replete with flute with his father's beloved cows in the background, reactions poured in on social media.
Wearing a blue jacket and a black shawl with a red head gear with a peacock feather on the top, the Bihar Health Minister, a devotee of Lord Krishna told ANI: "A devotee in Vrindavan gifted me all this and asked me to wear them on New Year, so I am celebrating like this today".
While the look failed to provide any major fashion goals for the new year, his confidence did catch the eye of his father's fierce political adversary – Prime Minister Narendra Modi. 
Modi, who was in Patna to attend an event to mark the 350th birth anniversary of Guru Gobind Singh, took a jibe at Tej Pratap, saying,"Aap toh Kishan Kanhaiya ho gaye hain (you are becoming a likeness of Krishna)," reported NDTV.
The comments came during a lunch that saw Modi, Nitish, Lalu and his two sons in attendance. 
While the PM's joke was seen in lighter vein, it also surprised many politician as how the Prime Minister keeps a tab on so many developments.
The event also grabbed headlines as it saw the Prime Minister praising Bihar Chief minister Nitish Kumar for his liquor prohibition drive.
"I greet Nitish Kumar from the core of my heart for launching a campaign against liquor," the PM said as Nitish shared dias with him during the concluding function of 350th Prakash Parva of 10th Sikh Guru Govind Singh here.
"But, this work (prohibition) would not be a grand success only by efforts of Nitish Kumar or one party. All the political parties, social organisations and citizens have to participate in it to make it a 'jan-jan ka andolan' (peoples movement)," Modi said.