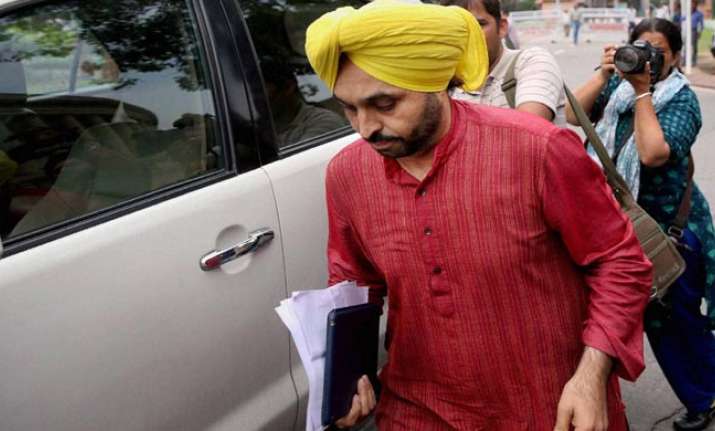 In a shocking incident, Aam Aadmi Party (AAP) MP Bhagwant Mann on Thursday instigated party workers to throw mediapersons out of a rally venue in Fatehgarh Sahib of Punjab.
Not only that, Mann went on to ask AAP workers to stop reading newspapers saying media is influenced by money while publishing news.
It all started when Bhagwant Mann, the Sangrur MP, arrived at a rally almost four hours behind the schedule. When the mediapersons began asking questions on his late arrival as well as his reaction on the sex scandal involving former Delhi minister Sandeep Kumar, the AAP MP lost his cool and asked the journalists to leave the venue.
"I request the media to leave the pandal and they can publish whatever they want!"Mann  said.
"We don't need any media reporting of AAP's functions," he added.
Targeting media throughout his speech, Mann said that he even knows what the headline will be in next day's papers.
"They will write that Mann reached rally venue three hours late. And they will accuse me of insulting them," he added.
Continuing his outbursts against mediapersons, Mann accused journalists of taking money in lieu of publishing news.
"I know you take money for publishing someone's name. I know that you go to people and say there is a story against them and ask for money not to publish it," Mann said.
Some AAP workers allegedly manhandled journalists after Mann's speech and tried to snatch camera of photographers.
Reacting to Mann's outbursts against media, suspended AAP MP Harinder Singh Khalsa said that the Sangrur MP must have said this in an inebriated condition.
"He is always out of his senses. He must be drunk while doing this blunder," Khalsa said.
Condemning Mann's attack on media, Chandigarh Press Club decided to  meet the director general of police (DGP), Punjab, for an immediate FIR against him.
They Press Club members also decided to boycott Bhagwant  Mann's press conferences and debarred him from entering the club premises "until he apologises".