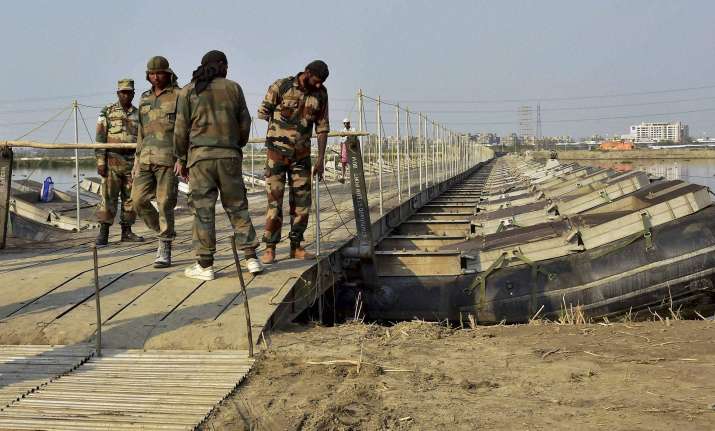 New Delhi: Amid row over deployment of Army jawans for Sri Sri Ravi Shankar's event on the Yamuna floodplains, a report has emerged claiming that it was AAP government's Water Resource Minister Kapil Mishra who had written a letter to Union Defense Ministry urging construction of extra pontoon bridge across river Yamuna for 'World Culture Festival'.
The Minister, in a letter dated February 16, had urged Defence Minister Manohar Parrikar to provide help for setting up bridges on the river for the event.
"We have learnt that the Army is making 1 pontoon bridge for the festival. This is not adequare for safe movement of the large gathering of people hence we request the Army for building at least 1 more pontoon bridge over River Yamuna during The World Culture Festival," he wrote in the letter.
A controversy erupted after the photos of Armymen laying pontoon bridges over river Yamuna went viral. The opposition had yesterday strongly raised the issue in the Parliament over use of Army for a private event like Sri Sri Ravi Shankar's World Culture Event.
According to reports, the government had directed the Army to build 6 floating bridges for the three-day event but the Army said that it can only construct 2 bridges with the available resources.
Meanwhile, Manohar Parrikar is reported to have asked his Ministry to frame a policy for the army's involvement in such events. "Roping in army machinery for humanitarian assistance, disaster relief or conducting a national event is one thing. Doing the same for a private function is totally avoidable," a senior officer was quoted as saying in a Hindustan Times report.
Under the current 'aid to civil authority', any private group don't pay for the construction of the bridges as the Defence Ministry doesn't have a policy for charging a fee for such events. Whenever the Army's help is sought by the state governments, the states reimburse the Ministry.
In a major relief to the Art of Living (AOL) foundation, the National Green Tribunal (NGT) on Wednesday gave its go ahead for the event with a fine of Rs 5 crore and directed AOL to develop the entire area in question into a biodiversity park. The tribunal also slapped Rs 5 lakh fine on DDA and Rs 1 lakh on Delhi Pollution Control Committee.
A bench headed by NGT Chairperson Justice Swatanter Kumar, asked AOL to deposit Rs 5 crores as environmental compensation before the event begins on March 11. The tribunal also asked AOL to give an undertaking that enzymes will not be released into Yamuna river and that no further degradation of environment will happen.