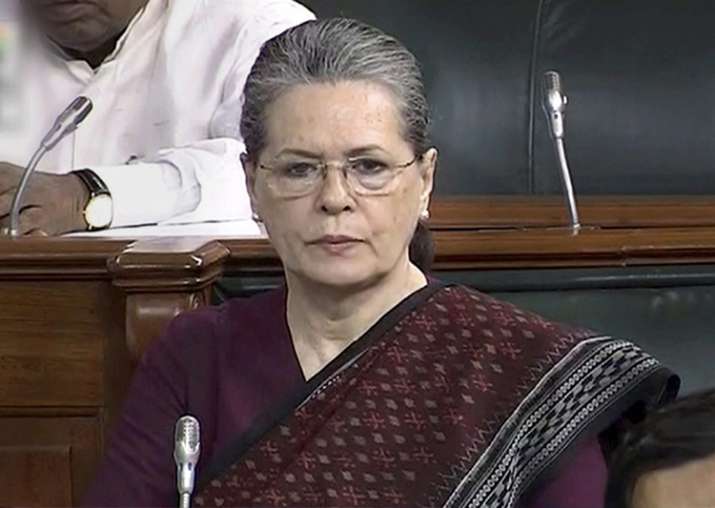 Congress president Sonia Gandhi today took a jibe at the ruling Bharatiya Janata Party and its ideologue Rashtriya Swayamsevak Sangh, saying 'some organisations had opposed the Quit India Movement' in 1942. 
Speaking in the Lok Sabha at a spcial session to commemorate 75 years of the 'Quit India Movement', Sonia recalled the role of county's first Prime Minister Pandir Jawaharlal Nehru and said that 'many Congress workers died in jail' in their fight for freedom. 
Highlighting the sacrifices of Congress leaders during the country's freedom struggle, she said, "During the freedom struggle, Pandit Nehru spent several years in jail, many Congress workers died in jail. A lot of atrocities were committed on the (Indian National Congress) protesters, but no one stepped back."
"We must not forget that some organizations opposed Quit India Movement, such organisation have no role in freedom struggle," she added, referring to Vinayak Damodar Savarkar who had opposed the 1942 Quit India Movement launched by Mahatma Gandhi.
The Congress president took another shot at the BJP - again without naming it - when she said that "debate in the public sphere is being restricted".
Attacking the ruling coalition, she said, "Today it looks like secularism and free speech are in danger. There is politics of divide. If we have to preserve freedom, we'll have to defeat forces endangering it. We can't and we won't allow sectarian forces to succeed." 
"Questions being raised whether forces of darkness are again raising their head, whether attempts being made to destroy democracy," she added.
The Parliament is today holding a special session to mark the 75th anniversary of the Quit India Movement, which later snowballed into enabling India gaining Independence from the British Rule in 1947.