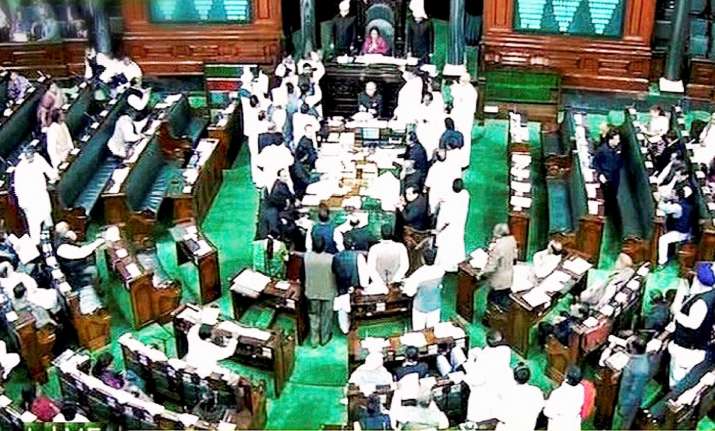 Lok Sabha Speaker Sumitra Mahajan on Monday suspended six Congress members for five Congress members from five sittings because of their unruly conduct. The six are Gaurav Gogoi, Adhir Ranjan Chowdhury, Ranjit Ranjan, Sushmita Dev, M.K. Raghav and K. Suresh.
The action against was take after they created a ruckus in the Lok Sabha and three pieces of paper and disrupted proceedings during Zero Hour. A visibly angry Speaker then suspended them and adjourned Lok Sabha till 2:30 pm.
Congress members staged a sit-in near Speaker Sumitra Mahajan's podium throughout the Question Hour as she refused to permit discussion on the issue.
While Opposition Leader Mallikarjun Kharge spoke on the issue as the Zero Hour started, Opposition members trooped near the Speaker's podium as a discussion was not allowed and kept raising anti-government slogans and threw torn bits of paper irking the chair.
Treasury bench members countered the Opposition's demand by raising Bofors scam.
Congress members trooped near the Speaker's podium soon after the Question Hour started and demanded a discussion on the issue of cow vigilantism.
Mahajan did not allow it and went through the Question Hour as Congress members sat near her podium, and kept raising slogans.
Parliamentary Affairs Minister Ananth Kumar urged the members to go back to their seats, saying the government was ready to discuss all issues.
"We are ready to discuss the issue, let the Question Hour work," he said.
Mahajan quipped that it appeared as if Opposition did not want a debate, to which Kharge immediately replied in negative.
Soon after the Question Hour, Kharge was allowed to speak and Congress members were seen returning to their seats.
At the same time, members from the treasury benches got up and started demanding a discussion on the alleged Bofors scam as well.
As the din subsided, Kharge said Dalits and minorities were being targeted by the cow vigilantes.
"Incidents of lynching in the name of cow protection are happening in the country continuously. Due to this, there is fear among Dalits, Muslims and women. The Centre has failed to stop such incidents. The Prime Minister (Narendra Modi) has said that strong action will be taken against the culprits but till date no action has been taken," Kharge said, demanding that discussion over the issue be begun immediately.
He also demanded the presence of Modi and Home Minister Rajnath Singh during the discussion.
While the Speaker asked Kharge to submit a notice for discussion, he requested the chair to convert the adjournment motion notice on the issue to a regular debate.
Trinamool Congress member Saugata Roy named a few victims of mob killings and slammed the government for failing to control it.
Ananth Kumar said cow protection was about national sentiment, but added that law breaking was not acceptable. He said that state governments should take action on it.
"The whole country considers cows as mother. But if someone takes law in their hands, it will not be tolerated. The Home Ministry had written to states on this in 2016, it is a law and order issue and state governments should take strict action," he said.
The Chair then allowed other Zero Hour mentions, but a dissatisfied Opposition once again started protesting and members from the Congress, Trinamool Congress, Left and other parties stood near the Speaker's podium and raised anti-government slogans.