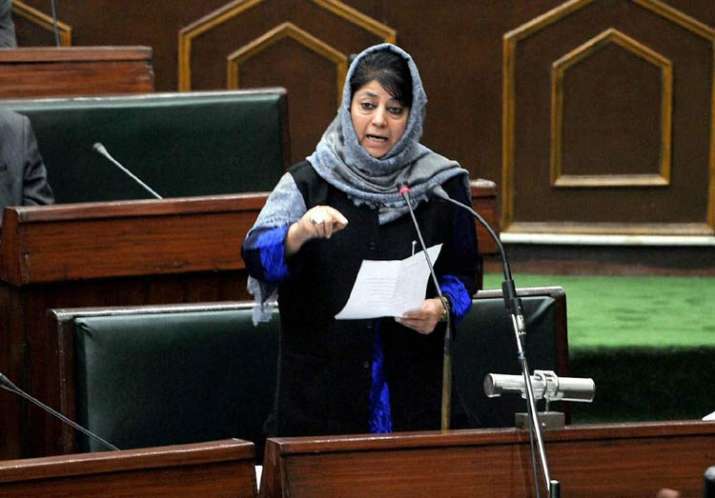 A total of 59 Kashmiri youths joined militant ranks after the killing of Hizbul Mujahideen commander Burhan Wani in an encounter with security forces on July 8 last year, the Jammu and Kashmir government said today. 
"As reported by CID headquarters, 59 youth have joined militant ranks after 8th July, 2016," Chief Minister Mehbooba Mufti said in a written reply to the question by MLA Mubarak Gul in the state Assembly here. 
"The state government has notified a surrender policy which was superseded by rehabilitation policy to encourage the misguided youths and militants to abjure violence and "accept the integrity of India and the Constitution", Mehbooba, who holds the home portfolio, said. 
She said the policy was notified so that they can join the national mainstream and lead a normal life. 
According to the policy, the state government will provide them incentives including fixed deposits of Rs 1.50 lakh, payment of monetary incentive for surrender of weapons and stipend for a period of 3 years at the rate of Rs 2,000 per month from the date of surrender, the chief minister said.  
Under the above policy of 2004, 437 cases of surrendered militants were received from 2004 till date, Mehbooba said.  
As many as 216 cases have been finalised and monthly incentives of Rs 2.68 cores have been paid, she said adding 219 cases have been rejected. 
In reply to another question, Mehbooba said as 2,690 cases have been registered in connection with stone pelting incidents in Kashmir and 16 have been lodged for snatching of weapons till the end of last year.  
463 people were also detained under Public Safety Act out of whom 145 were released, with 318 still under detention as on December 29, Mufti said in a written reply to MLA Engineer Abdul Rasheed in the state Assembly. 
The cases are under investigation, she said, adding that 76 people, besides 2 policemen, lost their lives during the unrest in Valley.
The killing of Hizbul Mujahideen commander Burhan Wani triggered violent protests and law and order disturbances in various parts of Kashmir valley.
50 militants killed, 81 personnel lost lives in 2016 
Last year saw 216 militancy-related incidents in which 150 militants were killed and 81 security personnel lost their lives, Jammu and Kashmir Chief Minister Mehbooba Mufti said today. 
Till December 21, 216 militancy-related incidents were recorded. 143 such incidents were reported in 2015 and 151 in 2014, the chief minister said in a written reply in the state Assembly.
Mufti said till December 19, 81 personnel of Army, BSF, CRPF, SSB and police laid down their lives for the nation and 150 militants were killed in that period.
(With PTI inputs)