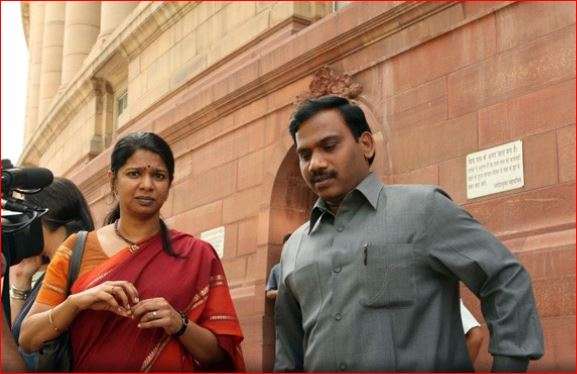 Tamil Nadu's main opposition DMK today hailed as 'historic' a Delhi court's verdict acquitting its leaders A Raja and Kanimozhi in the 2G spectrum cases even as its arch-rival, the ruling AIADMK, said it was a fit case for appeal. 
As the news about the CBI special court's verdict came, DMK cadres broke into celebrations across Tamil Nadu, bursting firecrackers and distributing sweets. 
"A historic verdict has been delivered," DMK working president M K Stalin told reporters. 
Expressing relief and joy, Kanimozhi, a Rajya Sabha member and daughter of DMK chief M Karunanidhi, said "I have been waiting these last six years for this day." 
Dubbing her last six years as "harrowing and excruciating", she said in a statement that as the 2G episode was behind her she will do all she can to strengthen the party and work for the people of Tamil Nadu. 
Stalin tweeted, "Today's verdict has demolished the concerted, vicious campaign built upon a pile of lies against DMK by vested interests and now DMK stands vindicated." 
DMK allies, including the Congress and IUML, welcomed the verdict, while BJP's state president Tamilisai Soundararajan said it should be viewed as just another court verdict. 
AIADMK said the verdict warranted an appeal. 
"It is not a final verdict. It is a fit case for appeal... when it is done, we hope we will get a good verdict,", senior AIADMK leader and Fisheries Minister D Jayakumar said. 
The court order evoked a surprise response from sidelined AIADMK leader TTV Dhinakaran, who said he was happy as Raja and Kanimozhi were from Tamil Nadu. 
"Personally I am happy. I don't want to comment anything politically. I knew Raja as a minister from Tamil Nadu when I was an MP," he said.
Stalin, accompanied by party general secretary K Anbazhagan, called on DMK patriarch M Karunanidhi at the latter's residence to apprise him of the judgment and said his father expressed happiness over it.
Stalin said it was a "planned (attempt) to insult and finish off a party (DMK)". 
"It is a matter of joy that all of them have been acquitted," he added. 
Stalin also distributed sweets to party workers. 
DMK workers and supporters burst crackers and distributed sweets across the state, especially in Raja's native Perambalur and Nilgiris district from where he unsuccessfully contested for a second term in Lok Sabha in 2014.
They raised slogans hailing Karunanidhi and Stalin. 
Former Minister T M Anbarasan said this case was misused by political rivals to malign the DMK. 
Tamil Nadu Congress Committee chief Su Thirunavukkarasar said the verdict proved there was no corruption in the previous UPA government. "Truth has won, dharma has won," he said. 
Chief of Viduthalai Chiruthailgal Katchi (VCK), a DMK friendly party, Thol Thirumavalavan said the verdict proved that the case was foisted on the accused. 
Speaking to reporters in Coimbatore, Tamilisai said there could not be a second opinion on the verdict given by a judge. 
The BJP's stand is that corruption should be totally wiped out from politics, she added. 
The judgement came on a day when bypoll is being held for the RK Nagar Assembly seat, which fell vacant following the death of former Tamil Nadu chief minister J Jayalalithaa.
Stalin, while replying to a question, said the verdict would not have any impact on the outcome of the bypoll, which the DMK will win. 
The verdict has come as a shot in the arm for the DMK, which has been training its gun on the ruling AIADMK over a host of issues, including corruption, and claiming the E K Palaniswami government would fall soon. 
The 2G spectrum case was perceived to have adversely impacted the DMK's prospects in the 2011 Assembly elections and also the 2014 Lok Sabha polls, both of which the AIADMK swept under the leadership of Jayalalithaa.