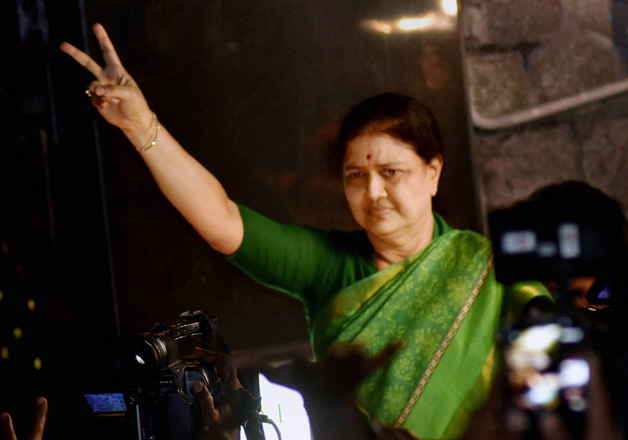 All 130 AIADMK MLAs, who have extended support to party supremo and CM-designate VK Sasikala, are staying at the MLAs' hostel in Chennai and are free to move around, the Madras High Court was told today.
VM Rajendran, Additional Public Prosecutor, appearing for the government, informed the court that MLAs who attended the AIADMK Legislature Party meeting yesterday are 'free and safe in the MLA hostel at Chepauk'.
After listening to the arguments made by Rajendran, a bench comprising Justice M Jaichandren and Justice T Mathivanan declined a prayer for an urgent hearing of Habeas Corpus petitions which alleged that 130 ruling party MLAs were under 'illegal detention' by the party leadership. 
The bench sought to know the need for urgent hearing from petitioners social activist Traffic Ramaswamy and PMK functionary K Balu 'when a categorical submission has been made that the MLAs were staying in MLAs Hostel'.
Judges said that they would hear the matter if it was 'brought before them in normal course'.
Besides, if the petitioners were still of the view that the MLAs were under detention, they could file a PIL, they added.
Earlier, Ramaswamy in his submission alleged that 130 AIADMK MLAs, who elected party General Secretary VK Sasikala as the Legislature Party leader on Sunday, were under detention and sought a direction to set them at liberty.
Balu said AIADMK MLA RT Ramachandran of Kunnam constituency in Ariyalur District, had gone missing since attending a party meeting a couple of days ago. He claimed the MLA was not accessible by phone also. Both urged the bench to take up their Habeas Corpus petitions for release of the MLAs as urgent matter.
Responding to this, the Additional Public Prosecutor denied any unlawful custody of the MLAs. He submitted that all the party MLAs were in their accommodation at the MLAs Hostel in the city and they were absolutely free to move around.