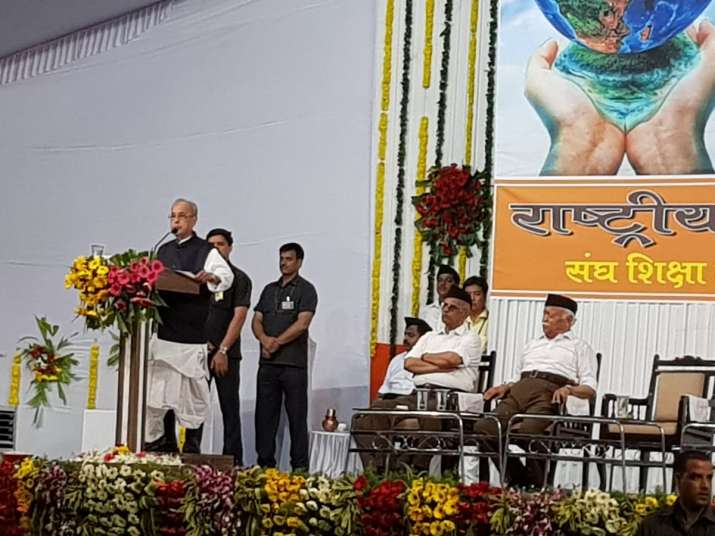 After former President Pranab Mukherjee decided to address an RSS event in Nagpur, it has converted into the headline for all the news organisations all over the country.
Well…it should be as a veteran Congress leader has decided to attend an important event of an organisation which totally and wholeheartedly supports BJP.
Many have endorsed the decision of the old-timer and many have expressed their displeasure including Mr Mukherjee's daughter, Sharmistha Mukherjee.
While, a day before Pranab Mukherjee's address, Ms Sharmistha Mukherjee disapproved father decision, and said that he was giving the BJP and the Sangh a handle to plant false stories, as his "speech will be forgotten" but the "visuals will remain", Assam Pradesh Congress Committee chief Ripun Bora also urged "Pranab Da" to reconsider his choice of gracing the event.
Senior Congress leader P Chidambaram also said that he should take the opportunity to tell RSS what is wrong with their ideology. "Now that he has accepted the invitation, there is no point in debating why he accepted it.
"The more important thing to say is, Sir you have accepted invitation, please go there and tell them what is wrong with their ideology," said the former Union Minister, reported IANS.
However, other popular leaders of Congress like Salman Khurshid entrusted his trust in the former Finance Minister and said that veteran Congress leader knows what he is doing.
Some even expressed surprise like West Bengal Congress chief Adhir Chowdhury who said he was unable to relate the visit with Mukherjee's previous comments against the Sangh Parivar and other Hindutva forces.
"My question is does he (Mukherjee) think his previous comments against RSS were wrong?
"We remember how Pranab Mukherjee as a senior leader of the Congress had come down heavily on RSS as a communal and a divisive organisation," he said, reported IANS.
On his part, breaking his silence on accepting an invitation to attend an RSS event Mr Mukherjee said whatever he has to say, he will say in Nagpur only.
"Whatever I have to say, I will say in Nagpur. I have received several letters, requests and phone calls, but I haven't responded to anyone yet," Mukherjee was quoted as saying by Bengali newspaper Anandabazar Patrika.
And in Nagpur, our 82-year-old former President was the showstopper. His speech, which lasted for 30 minutes, reflected that why he is considered as one of the most respectable politicians of the country.    
On the one hand, he cautioned that any attempt to define India through "religion, dogma or intolerance" will only dilute the country's existence as nationalism can only come out of the ideological fusion of Hindus, Muslims, Sikhs and other groups and…one the other hand he paid his respect to Keshav Baliram Hedgewar [the founding Sarsanghachalak of the Rashtriya Swayamsevak Sangh (RSS)] and called him "great son of Mother India'.
Maintaining his personality, at the end of the function, Mukherjee stood up with others as the RSS flag was lowered but did not join the "salute".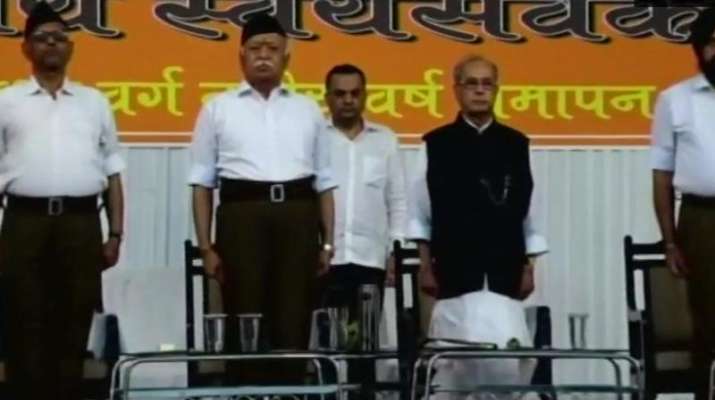 Mr Mukherjee had visited the RSS headquarters on Thursday to address a function.
Is former President breaking the shackle of 'politics of untouchability'?
Well, leaders of different political parties do meet, keeping aside their political rivalries, during social gatherings like marriage parties and birthdays. 
But attending a political event of one political party by an esteemed leader of an opposition party is not a common trend. One can say that RSS isn't a political party, but the facts remain that we all know about relationship between BJP and RSS.
Whenever we take a decision, some people like it others don't. A decision can't please everybody.
Pranab Da's decision (to attend RSS event) was his personal. Being a polished person if he had decided to do something, he must have thought about all possible outcomes. 
YOU MAY ALSO LIKE TO READ
OPINION: PM Narendra Modi Vs the rest
Interact with Anurag Kumar at Twitter/@AnuragSason
Disclaimer: The views expressed by the author are his personal and do not reflect the opinions, beliefs and views of India TV Editorial.