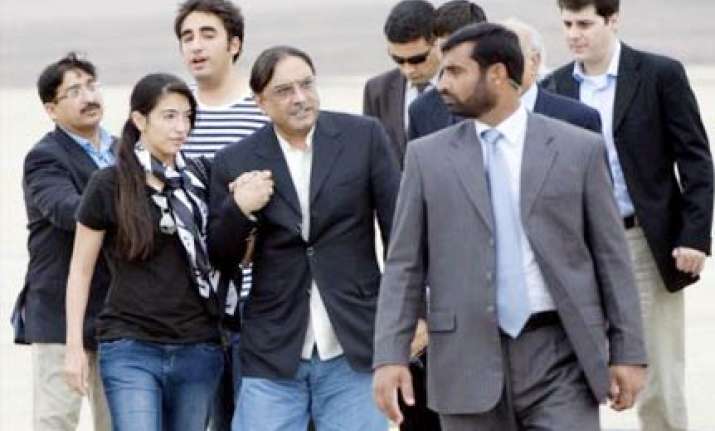 Pakistan president Asif Ali Zardari has turned down an offer of hospitality at David Cameron's coun­try retreat Chequers. He rejected an invitation to spend a night at the Buckinghamshire mansion, saying he was too busy as the diplo­matic row continued over his coun­try's approach to tackling terrorism, reports The Daily Mail.
But he will visit Chequers for informal talks over dinner with Cameron, which are set to be dominated by Cameron's assertion last week that Pakistan is 'exporting terror'.
He will then travel back to his hotel in London before returning to Chequers on Friday for for­mal talks with Cameron, who has also accused Pakistan of 'looking both ways' on terror.
Zardari will on Saturday address a rally in Birmingham at which he is expected to launch his son with Benazir Bhutto, Bilawal, onto the political stage.
Bilawal, 21, is the young heir to the most important political dynasty in Pakistan and has been at his father's side in France and the UK this week.
He became chairman of the Pakistan People's Party after his mother's assassination and has just graduated from Oxford and will now take to politics full-time.  
Cameron's comments, made during a visit to India last week, have unleashed fury in Pakistan and angered some members of Britain's million-strong British Pakistani community.
Pakistani sources have said Zardari will use this week's talks to 'educate' Cameron on the suffering that terrorism has caused to his country.
Downing Street denied Zardari had snubbed the Prime Minister. A source said the decision not to stay at Chequers was due to a 'diary clash'.
Zardari is already facing fierce criticism over his decision to continue his tour of Europe at a time when Pakistan has suffered dev­astating floods.
Former Pakistan cricket captain Imran Khan said the president should have postponed his 'lavish' visit during which he has stayed at a family chateau in France and a five-star hotel in London.