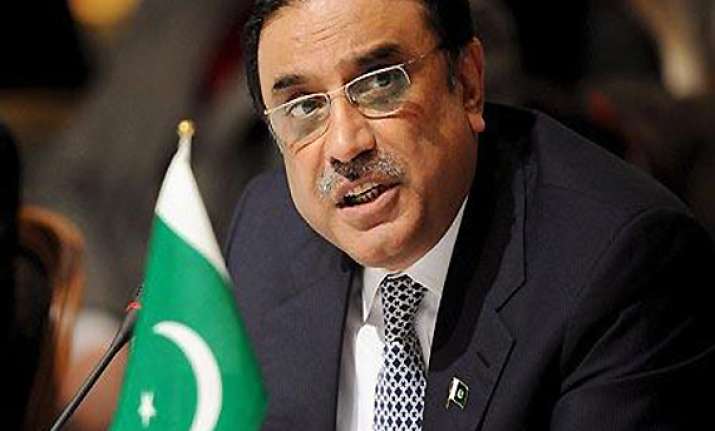 Islamabad, Jan 11: Amid a looming confrontation between the Supreme Court and the government, Pakistan President Asif Ali Zardari today made it clear that he did not intend to resign even as an urgent session of parliament has been called to consider the situation.

Zardari through his spokesman refuted reports that he had offered to resign at a meeting of his Pakistan Peoples Party (PPP) and its allies late last night.

"Neither in the allies' meeting on Tuesday night nor at any other stage has the President offered to resign and the reports suggesting otherwise are contrary to the facts and reality of the situation," presidential spokesman Farhatullah Babar said in a brief statement.

"There is no truth in these reports," Babar said while reacting to reports in a section of the media that said Zardari had offered to resign during the meeting jointly chaired by Zardari and Prime Minister Yousuf Raza Gilani at the presidency.

At the meeting, the ruling coalition leaders decided to call an urgent session of parliament tomorrow in the wake of a warning from the Supreme Court that action could be taken against Zardari and Gilani for failing to reopen high-profile corruption cases.

The Supreme Court had warned yesterday that action could be taken against both the President and Prime Minister for failing to act on a court order to reopen corruption cases that were closed under a graft amnesty issued by former military ruler Pervez Musharraf in 2007.

The amnesty was struck down by the Supreme Court in December 2009. Since then, the apex court has been pressuring the government to reopen corruption cases against Zardari and over 8,000 other beneficiaries of the amnesty. 

The government has refused to act on the court's directives to reopen cases of alleged money laundering against Zardari in Switzerland, saying the President enjoys immunity from prosecution.

Following the yesterday's court order, the heads of the parties in the ruling coalition led by the PPP proposed that a session of the National Assembly or lower house of parliament should be "urgently called to discuss the latest political issues", Babar had said last night.

The leaders discussed the "current political situation with particular reference to the most recent developments", he said.

Zardari had cut short a visit to Karachi yesterday and rushed back to the federal capital following the warning issued by the Supreme Court.

Meanwhile, sources in the PPP dismissed reports in a section of the media that Zardari, 56, intended to travel again to Dubai in the near future.

Zardari was rushed to a hospital in Dubai on December 6 last year for medical treatment.