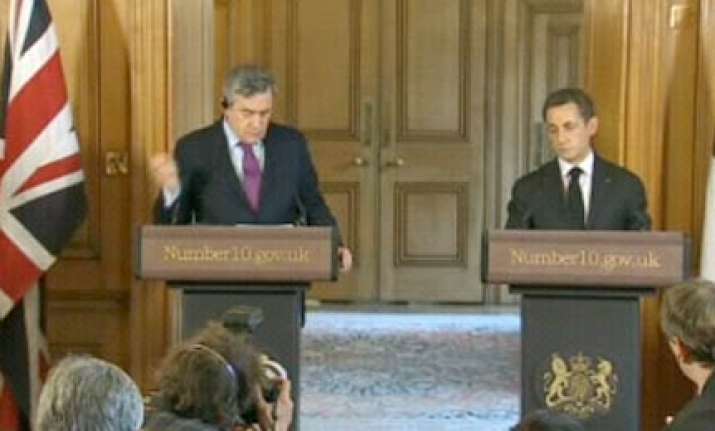 Nicolas Sarkozy, the French President, has angrily rebuked a journalist for asking about rumours surrounding his marriage to Carla Bruni.
At a joint Downing Street press conference with Gordon Brown, Mr Sarkozy was twice pressed on the recent flurry of speculation that his marriage was in trouble.
He snapped at a French journalist who raised the subject calling his question idiotic.
And minutes later when a British member of the press asked him to deny the rumours the French president simply refused to answer before Mr Brown called the briefing to an end.
Mr Sarkozy's irritation was plain when he responded to the first question.
He told the journalist: "You must know very little about what the President of the Republic actually has to do all day long. I certainly don't have time to deal with these ridiculous rumours, not even half a fraction of a second.
"I don't even know why you use your speaking time to put such an idiotic question."
He added: "I love Britain – don't make me bite back those words."
Mr Brown tried to lighten the mood by offering his own thoughts on the British media.
He told reporters: "As far as the British press, I have been able to tell Nicolas that I don't believe everything that I read in the British press."
When the two men turned to leave the Downing Street press conference Mr Sarkozy held his arms out wide as if in exasperation. Mr Brown then placed a consoling arm around the French president whom he considers a friend.
In recent days there have been rumours emerging from France that both Mr Sarkozy and his wife, the model Miss Bruni, were having affairs. After a tweet on the the microblogging website Twitter was followed by a report in a French Sunday newspaper.
The first 'tweet' claimed that Mrs Bruni-Sarkozy had become romantically involved with Benjamin Biolay, a musician and a winner at France's recent Victoires de la Musique awards.
It then claimed that the jilted Mr Sarkozy had swiftly found solace in the arms of his 40-year-old ecology minister Chantal Jouanno, also a French karate champion.
http://www.telegraph.co.uk/news/newstopics/politics/7429256/President-Sarkozy-irritated-by-questions-over-his-marriage.html