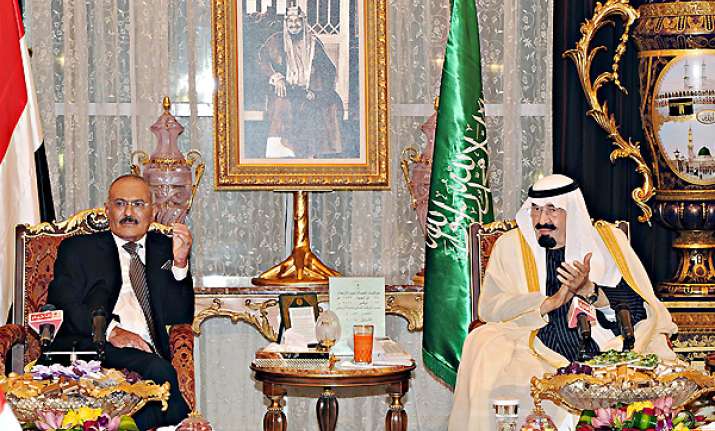 Riyadh, Nov 24: Yemeni President Ali Abdullah Saleh on Wednesday signed a deal to hand over his powers after 33 years in office, ending months of delay that had seen protests that erupted in January degenerate into deadly unrest.

Saleh promised "real partnership" with the opposition in implementing the Gulf- and UN-brokered agreement, and King Abdullah of Saudi Arabia, who hosted the signing ceremony at his Al-Yamama palace in Riyadh, hailed a "new page" for the impoverished neighbouring country.

But thousands of demonstrators again to took the streets of the Yemeni capital Sanaa to protest against the deal's promise of immunity from prosecution for both Saleh and his family.

A spokesman said they rejected the agreement signed in Riyadh.

The organising committee of youth protesters said the Gulf-brokered deal "does not concern" protesters, Walid al-Amari told AFP. It called for new demonstrations to demand his immediate departure.

Under the agreement, which Saleh had stalled for months in defiance of intense domestic and international pressure, the veteran leader will hand his powers to Vice President Abdrabuh Mansur Hadi but remain honorary president for 90 days.

Saleh has repeatedly backed out of signing the deal brokered by Yemen's wealthy Gulf neighbours since the parliamentary opposition inked it back in April.

During his months of prevarication, deadly clashes between loyalist and dissident troops had riven the capital, while militants, some linked to Al-Qaeda, took advantage of the decline of central government control in the provinces to set up base.

But at today's signing ceremony, Saleh insisted: "We welcome partnership with the opposition to manage the country's affairs and rebuild what the crisis has destroyed."

UN chief Ban Ki-moon said he had called Saleh and "strongly urged" him to sign the deal, which his Yemen envoy Jamal Benomar played a major role in brokering during repeated visits to Sanaa.

The 69-year-old Saleh sustained serious blast wounds in a June bombing of his residence for which he has already received extensive treatment in Saudi Arabia.

Under the roadmap brokered by Benomar, Saleh will hand to Hadi "all powers necessary for proceeding with the Gulf initiative and its implementation mechanism and for organising early elections within a 90-day period which begins immediately after the signing."

The opposition will immediately put forward a candidate to head a government of national unity, which will be charged with holding talks with the youth activists who have spearheaded the 10 months of protests, the UN envoy said.

Saleh will remain honorary president for 90 days until Hadi is elected as consensus president for an interim two-year period, political sources said.

The parliamentary opposition spokesman warned that the protesters were unlikely to give up their almost daily demonstrations until Saleh has finally quit office completely.

"The streets reject the Gulf initiative," Mohammed Qahtan, spokesman for their Common Forum parliamentary bloc, told AFP.

"People will not go back to their homes until the honorary term ends."

Protesters again demonstrated in Sanaa earlier today to protest against the immunity promised to Saleh and his family from prosecution for their roles in the regime's bloody crackdown that has left hundreds dead and thousands wounded.

"No immunity, no guarantee, Saleh must be tried with his regime," they chanted.