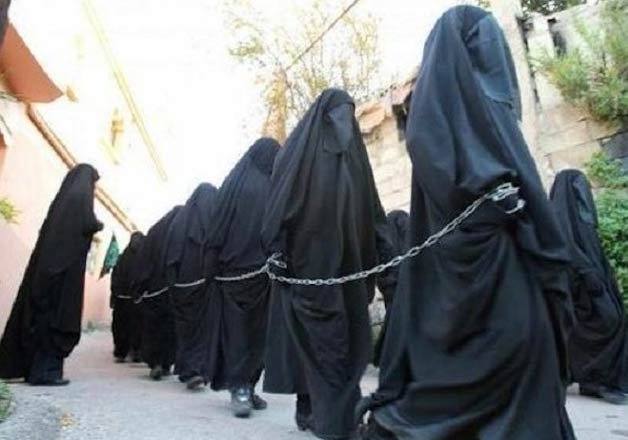 London:  A 17-year-old Yazidi teenager recalled her nine-month ordeal under Islamic State terrorists and how she and her little sister were raped daily by the jihadis after they were sold into slavery at an auction of virgins -- and she revealed she is now pregnant with an extremist's baby.
The girl, now three months pregnant, revealed how every day of her nine-month ordeal was "like choosing between death and death" as she was faced with beatings and sexual assaults by the IS terrorist and his team of "bodyguards", the Daily Mail reported on Friday.
The teenager spoke of how she was gang raped, whipped and even scalded on the thigh with boiling hot water if she did not give in to her IS rapist's depraved sexual demands.
The girl recalled how she was forced to recite passages from the Koran while her "owner", calling himself Al-Russiyah, and his "bodyguards" molested her.
"It was like choosing between death and death... It was terrible," she stated.
The teenager was kidnapped last August after IS fighters overran Sinjar town in Iraq in an onslaught which sent thousands of Yazidis who had been living on the Nineveh plains running to the mountains to escape the extremists.
She was then moved to IS's adopted capital of Raqqa in Syria, where she and dozens of other women and girls underwent an intrusive examination to confirm that they were virgins.
"The virgins were taken to a room with 40 men," she recalled.
"They lined us up and pointed who they wanted... I thought I might be lucky: I was not as beautiful as the others."
The girl was bought by Al-Russiyah, originally from Chechnya, who purchased her, her 10-year-old sister and two other girls in 10 minutes.
After the auctions, Al-Russiyah stripped the girls naked every morning, then smelled them and decided who he wanted to have sex with that day, she said.
In April, Al-Russiyah was killed together with his bodyguards by Peshmerga forces near Sinjar in northern Iraq and the girls were finally able to flee.
The 17-year-old girl said: "Al-Russiyah and his bodyguards were wounded when they fought against Kurdish soldiers. He died thereafter and the guards also, that was when we fled."