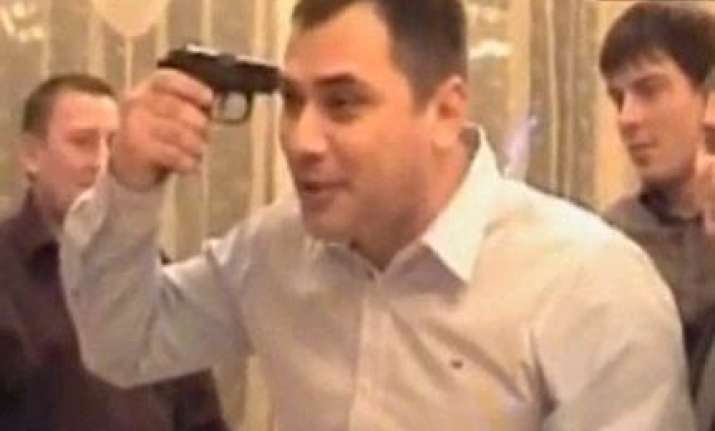 A wedding guest was arrested by Astrakhan police in Russia after a man was seriously wounded playing 'Russian roulette' in front of a horrified bride and groom.The guest had been giving a toast when he pretended he was playing the deadly game with a gun that he claimed he thought was entirely empty.But then he gave the gun to another guest - and it turned out that he had been tragically wrong.
The second guest also fired the handgun against his head - and dropped to ground as a rubber bullet exploded into his skull.The first guest can be seen standing in shock for a split second after the shot is fired.The film of the incident has sparked horror after being posted on the web.
The footage shows a friend of the groom propose a toast to the happy couple, pull out the weapon and pretend to shoot himself in the head. Nothing happens and the man, who later said he believed the gun was empty, claims it was a 'childish prank'.Then he says: 'Here - who wants to do it?' 
A voice is heard saying: 'Russian Roulette, yes?' Another guest seizes the Russian-made IZH-79-9, points it at himself in front of dozens of guests. As another guest appears to tries to stop him with an outreached arm coming into view, the man shoot a rubber bullet into his own head. 
The TV report shows scenes of panic as the man falls to the ground and someone shouts: 'Are you mad?'The unnamed man's condition was later described as 'very poor' after doctors removed a bullet from his skull. He suffered brain damage and paralysis, according to Russian reports.The man who produced the hand gun at the Astrakhan wedding was arrested. 
He said: 'I wanted to perform my party trick. I expected lots of applause after I did it and never guess someone would repeat it.'  He insisted he had taken out all the bullets before doing his party 'trick'. The man is due to appear in court over the incident, say police. 
Russian Roulette was thought to have originated in Tsarist Russia when prison officials would force inmates to play while betting on who would die.
Years later, during the Russian Revolution, Russian officers would play the game in front of comrades. Some were suicidal, others – perhaps like the victim in this case – just wanted to prove their bravery.