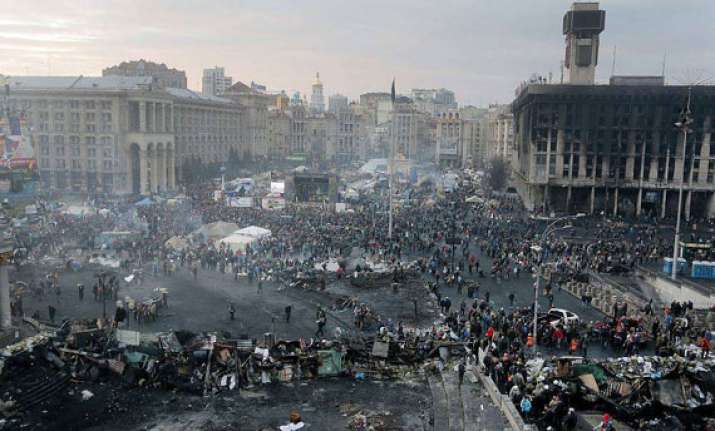 Kiev: Protesters took control of Ukraine's capital on Saturday, seizing the president's home and office as parliament sought to oust him.
An aide to President Viktor Yanukovych said he had left the capital for his support base in the country's Russian-speaking east, but that he has no intention of abandoning power.
In a special parliament session, lawmakers warned that the country risks being split in two. The country's western regions want to be closer to the EU and have rejected Yanukovych's authority in many cities, while eastern Ukraine which accounts for the bulk of the nation's economic output favors closer ties with Russia.
Hanna Herman, a close Yanukovych ally, told AP today that the president is visiting Kharkiv, a city in Ukraine's east which is the heart of his support base.
"As much as some people want it, he has no intention to leave the country," Herman said. She said the president was to meet voters in the region and make a televised address.
The trip comes a day after Yanukovych and opposition leaders signed a European-brokered agreement aimed at resolving the months-old political crisis that has killed scores and injured hundreds.
The agreement calls for early elections and constitutional reforms that reduce the president's powers.
The protesters, who are angry over corruption and want Ukraine to move toward Europe rather than Russia, claimed full control of Kiev and took up positions around the president's office and residence.
Parliament, only a day ago controlled by Yanukovych supporters, was considering whether to impeach him and set a quick date for new elections to end a three-month standoff that has turned into a national crisis over Ukraine's identity and future direction.
Despite significant concessions by Yanukovych yesterday, protesters said his offer of elections late this year aren't soon enough.
"Resign! Resign!" chanted protesters on Independence Square, the nucleus of the protest movement.
Ukraine's jailed pro-Western opposition icon Yulia Tymoshenko today walked free moments after parliament voted to oust the country's embattled President Viktor Yanukovych and set new elections for May.
The latest developments in the ex-Soviet nation's three-month political crisis came after protesters took control of Kiev's charred city centre and seized Yanukovych's lavish residence and official offices, in a day of dramatic twists and turns.
Yanukovych denounced the "coup" and branded his political foes as "bandits", comments that won firm support from his backers in Moscow.
But the balance of power swung firmly in the opposition's favour a day after Yanukovych and the opposition signed a Western-brokered peace pact designed to resolve Ukraine's bloodiest conflict since its independence in 1991.
Tymoshenko, the fiery 53-year-old co-leader of the 2004 pro-democracy Orange Revolution, waved to hundreds of supporters chanting "free Yulia!"
One of her close allies said Tymoshenko was travelling directly to address the crowds on Kiev's iconic Independence Square -- occupied since Yanukovych's decision in November to spurn an agreement with the European Union in favour of closer ties with Russia.
"The dictatorship has fallen," Tymoshenko said in a statement released on her official website. "It fell thanks to those people who came out to defend themselves, their families and their country."
Ukraine's pro-Russian regime appeared on the verge of collapse as lawmakers passed a resolution stating that Yanukovych was "removing himself (from power) because he is not fulfilling his obligations".
They set new presidential elections for May 25.
But Yanukovych defiantly told a local television station in the eastern Ukrainian city of Kharkiv -- a pro-Russian bedrock of support -- that he would fight tooth and nail against the "bandits" trying to oust him.
"I am not leaving the country for anywhere. I do not intend to resign. I am the legitimately elected president," the 63-year-old leader said in a firm voice.
Yanukovych said with a hint of outrage that "everything happening today can primarily be described as vandalism, banditry and a coup d'etat.