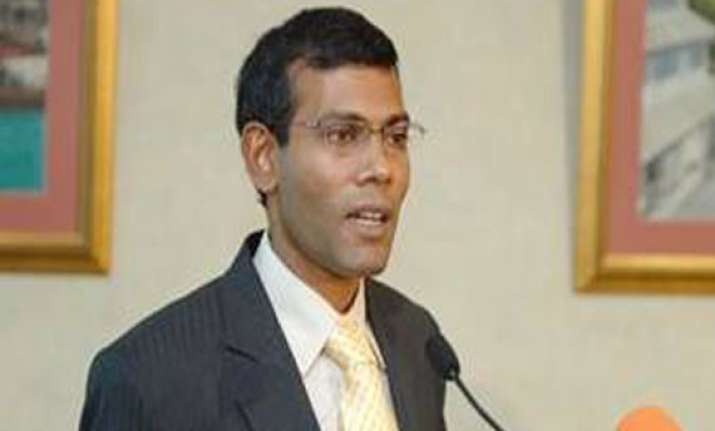 Male,Feb 14: Former Maldivian President Mohamed Nasheed, who has taken refuge at the Indian embassy here, has demanded that President Mohammed Waheed must quit and an interim, caretaker government should be set up to ensure free and fair elections.
"The events of the past year, the mass arrests, the police brutality, the politically motivated trials, demonstrate that Dr Waheed cannot be trusted to hold a free and fair election," Nasheed said in a statement posted on the website of his Maldivian Democratic Party.
"Waheed should do the right thing and resign from office.
An interim, caretaker government should be established that can lead the Maldives to genuinely free and fair elections, in which all candidates are freely able to compete," 45-year-old Nasheed said.
Mr. Nasheed labelled his ongoing trial "a politically motivated sham" and said the Hulhumale Magistrates Court, established to hear his case was illegal and created "with the sole purpose of disqualifying me from standing in the presidential elections".
Mr. Nasheed said he could not hope to be afforded a fair trial and accused Waheed of "ruling down the barrel of a gun".
He said that "the fate of Maldivian democracy hangs in the balance".
"The Maldivian people must not be robbed of their democratic right to elect a leader of their choosing," the former President said.
Mr. Nasheed welcomed India's call for all candidates to be allowed to freely compete in the upcoming presidential elections in the Maldives.
Meanwhile, Waheed's Press Secretary Masood Imad, told PTI, "The arrest warrant against Nasheed expired at 4 pm (local time) last evening. He is free to come out of the Indian High Commission. Since there is no warrant, he will not be arrested".
Mr.Nasheed will remain at the Indian High Commission in Male until a free, fair and inclusive election can be guaranteed, MP Ali Waheed, Deputy Parliamentary Group leader of Maldivian Democratic Party, was quoted by Haveeru daily as saying.