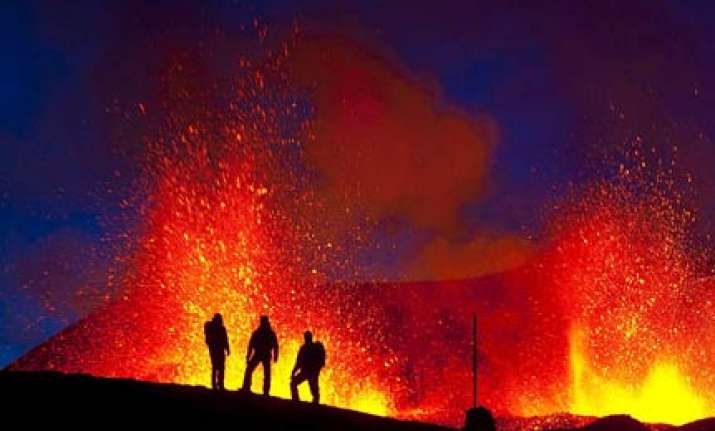 A volcano in Eyjafjallajoekull, south-central Iceland, continued to erupt under an ice-sheet on Thursday, but fears it could unleash floods of meltwater haven't yet been realised.  Vulcanologists said the location of the eruption, between the Eyjafjallajoekull and Myrdalsjoekull glaciers at a height of 1100 metres (3,600 feet), meant that there was little likelihood of flooding as long as the erupting fissure did not extend beneath the glacier.
The area, called Fimmvorduhals, lies on a popular walking path over the mountain pass.  Bad weather had hindered close filming until Wednesday morning, when it became apparent that the erupting fissure was about 500 metres (550 yards) long. 
Almost all the 600 people who were moved from their homes early on Sunday morning have been allowed to return, although inhabitants of 14 farms were still ordered to stay away.  There have been no injuries or damage to property so far.  
Previous eruptions in Eyjafjallajoekull have triggered eruptions in the volcano Katla some 20 kilometres (12 miles) to the east but there have been no signs of any changes in the much more powerful Katla.  Katla is beneath Myrdalsjoekull and an eruption there would cause widespread flooding from the melting of glacier ice.  
A major eruption could also release a large amount of sulphur dioxide and volcanic ash into the atmosphere, with consequences for trans-Atlantic air traffic.  The last eruption in Katla was in 1918, and the volcano typically erupts around every 50 - 80 years so one is 'overdue'.  
Iceland sits on a volcanic hotspot in the Mid-Atlantic Ridge where eruptions are relatively common. Most occur in sparsely populated areas and pose little danger to people or property.  However an eruption in the Vestman Islands off the south coast in 1973 buried a third of the town of 5,500 people under lava and ash.  The last eruption in Iceland took place in 2004. AP