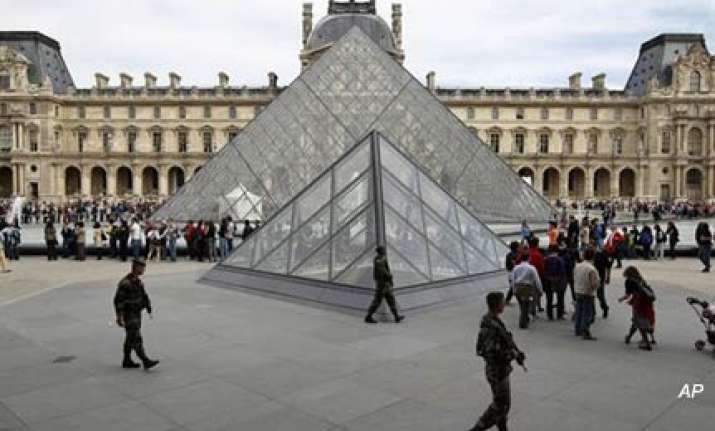 A rare advisory for US travellers to beware of potential threats in Europe drew American shrugs on Sunday from Paris to Rome, but tourism officials worried that it could deter would-be visitors from moving ahead with plans to cross the Atlantic.
The travel alert is a step below a formal warning not to visit Europe, but some experts said it could still hurt a fragile European economy already hit hard by the debt crisis.
The State Department alert advised the hundreds of thousands of US citizens living or travelling in Europe to take more precautions about their personal security.
At the Dulles International Airport, many travellers were not concerned, or not aware, about the new advisory. Eric Glass, an American living in Austria, said on Sunday afternoon that "alerts come and go," but added that he was "not really concerned about it."
Security officials say militants may be plotting attacks in Europe with assault weapons on public places, similar to the deadly 2008 shooting spree in Mumbai, India.
Without a specific threat, however, American visitors were not letting the alert disrupt their travels. Fernando Maestre was leaving the Washington area for a cruise out of Italy with his wife. "We've planned this for nearly a year and we're not going to cancel it now," he said.
Likewise Jennifer Mackey, who was returning from volunteering in Haiti, would not let the threats change her travel plans. "I don't worry about these sort of things I don't think we should be in a fear based society," she said.
The impact on travel could deepen if the threat highlighted by the Obama administration leads to new, tighter security measures in airports and elsewhere, said a travel analyst for Forrester Research. But the US-based Air Transport Association, a trade group for the airline industry, said it expects "business as usual." United, Continental and Delta said they were operating as usual on Sunday without any cancellations or delays related to the alert.
The airlines said customers will be charged the usual penalty if they want to change itineraries. US and European security experts have been concerned for days about an attack similar to the one in Mumbai, which left 166 people dead and targeted two luxury hotels, a Jewish centre, a popular restaurant and a crowded train station.
Despite concerns that the alert could cause a European travel slump, there was no strong opposition it from European leaders, who privately have been advised of the impending action, a European official said. US intelligence officials believe Osama bin Laden is behind the plan to attack several European cities. If true, this would be the most operational role that bin Laden has played in plotting attacks since September 11, 2001.AP