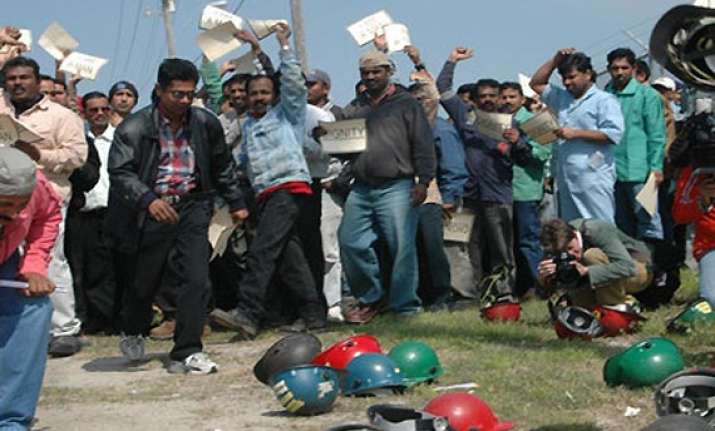 Washington: Five more lawsuits accusing a US shipbuilder of luring 500 Indian guest workers to the US with false promises and forcing them to work under barbaric conditions have been filed in two states.
Three of the new lawsuits against Signal International, which has shipyards in Mississippi, Texas and Alabama, were filed in Texas, while two others were filed in Mississippi on behalf of 60 Indian workers, according to the Southern Poverty Law Centre (SPLC).
"The Indian workers who came to this country through Signal's recruitment effort were skilled labourers seeking opportunity, but they were forced into modern-day indentured servitude," said Daniel Werner, SPLC senior supervising attorney in a media release.
"The new lawsuits are part of an unprecedented effort by some of the nation's most prestigious law firms to prosecute, on a pro bono basis, multiple human trafficking lawsuits against Signal," the release said.
In addition to the lawsuits filed last week, three law firms filed lawsuits on behalf of 83 guest workers in May. These followed lawsuits filed by the SPLC in 2008 on behalf of 12 named plaintiffs and a class of Indian guest workers.
After the court denied class certification for the lawsuit, the SPLC contacted more than half a dozen law firms, which enthusiastically agreed to represent individual guest workers for free, the release said.
The lawsuits allege that Signal and its agents defrauded guest workers out of millions of dollars in exorbitant "recruitment fees" and falsely promised help in applying for and obtaining permanent US residence.
The guest workers sold family property and heirlooms, and incurred crippling debt, to each pay as much as $25,000 to Signal, they charged.
Once these workers were lured to Signal's shipyards in Pascagoula, Mississippi, and Orange, Texas, they were forced to live in overcrowded, unsanitary and racially segregated labour camps, the news release alleged.
Signal, used the US government's H-2B visa guest worker programme to import these employees from India to work as welders and pipefitters after Hurricane Katrina scattered its workforce, SPLC said.
Signal has not commented on the latest cases, but in June it dismissed lawsuits filed in May as part of SPLC's "agenda to cripple companies during labour shortages who attempt to legally employ workers through the H2B programme."
Richard Marler, CEO of Signal, stated: "I am astounded at this abuse of the legal system. These are the same exaggerated claims which have been exposed as false allegations by a federal court judge well over a year-and-a-half ago."