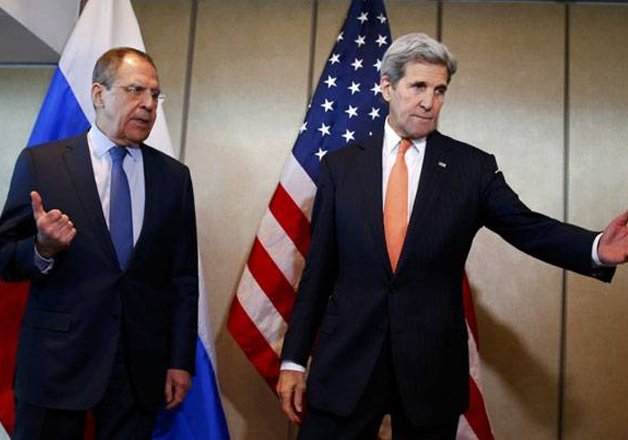 Damascus/ United Nations: The United States and Russia have announced the plan for a cessation of hostilities in Syria that will begin on February 27, even as major questions over enforcing and responding to violations of the truce were left unresolved.
In a joint statement, the two countries said the ceasefire agreement will not apply to 'Daesh', also known as the Islamic State (ISIS), 'Jabhat al-Nusra', or other terrorist organisations designated by the UN Security Council.
Any party engaged in conflicts in Syria will indicate to Russia or the US their commitment to and acceptance of the terms for the cessation of hostilities by no later than 12.00 (Damascus time) on February 27, said the joint statement.
"I am gratified to see the final arrangements concluded today for a cessation of hostilities in Syria and call on all parties to accept and fully comply with its terms," US Secretary of State John Kerry said.
If implemented and adhered to, Kerry said, this cessation will not only lead to a decline in violence, but also continue to expand the delivery of urgently needed humanitarian supplies to besieged areas and support a political transition to a government that is responsive to the desires of the Syrian people.
Russia-US military action to continue against ISIS
Russia and the US are prepared to work together to exchange information and develop procedures necessary for preventing parties participating in the ceasefire from being attacked by Russia, the US-led anti-ISIS coalition, and the Syrian government, said the joint statement.
Russian and the US military actions, including airstrikes, will continue against ISIS, "Jabhat al-Nusra," and other terrorist organisations.
Moscow and Washington will also establish a communication hotline and, if necessary and appropriate, a working group to exchange relevant information after the cessation of hostilities has gone into effect.
"This is a moment of promise, but the fulfilment of that promise depends on actions," Kerry said. "We are all aware of the significant challenges ahead."
UN hails US-Russian accord
UN Secretary-General Ban Ki-moon today welcomed an agreement announced by US Secretary of State John Kerry and Russian Foreign Minister Sergey Lavrov on the terms of a nationwide cessation of hostilities in Syria scheduled to come into effect on February 27.
"The secretary-general strongly urges the parties to abide by the terms of the agreement," said a statement issued here by Ban's spokesman.
Earlier on Monday, Kerry and Lavrov reached a provisional agreement on terms of a cessation of hostilities in Syria, where more than 250,000 people have been killed since March 2011.
The two Foreign Ministers are the co-chairs of the International Syria Support Group (ISSG) Ceasefire Taskforce formed in Munich, Germany.
"Much work now lies ahead to ensure its implementation, and the international community, the ISSG and the Syrian parties must remain steadfast in their resolve," the statement said.
With Agency Inputs