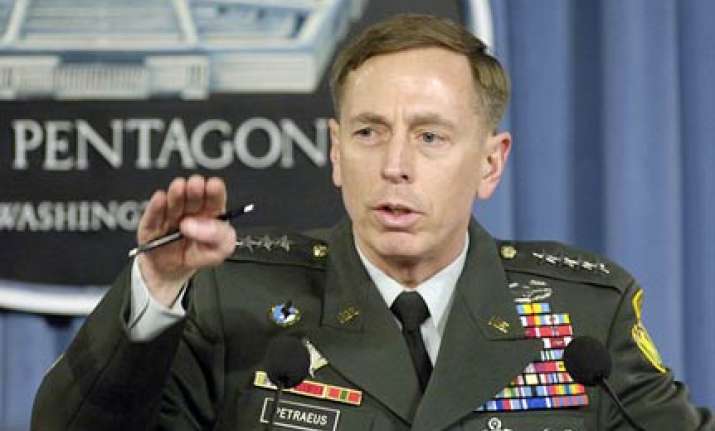 Terror outfits like the Lashkar-e-Tayiba are not yet on the radar of the Pakistani establishment and the need to take action against the organisation blamed for Mumbai attacks has been Washington's 'source of dialogue' with Islamabad, a top US General has said.  
Appearing before the powerful Senate Armed Services Committee, General David Petraeus, Commander of US Central Command, said the entire Obama administration has had quite a bit of interaction with the government of Pakistan over LeT after the Mumbai attacks that killed 166 people, including Americans.  
"Obviously India has expressed its concerns as well (on LeT)," he said in reply to a question.  
"There are elements in Pakistan that have not yet been the focus of the Pakistani counterinsurgency efforts," Gen Petraeus said in reply to a query raised by Senator Claire McCaskill, who expressed concern over the inability of Pakistan authorities in taking "substantial action" against the LeT.  
The Senator said he is worried that LeT is growing in strength, referring to the recent terrorist attack on Indians in Kabul, which Afghan authorities say was carried out by the Pakistan-based outfit.  
However, Petraeus came to the defence of the Pakistan Army saying it has been taking strong action against Al Qaeda and the Taliban in the Northwest Frontier Province of Pakistan.  
General Petraeus said: "They are continuing those campaigns. They are not just holding on what they've got: They do continue their efforts. And I know what the plan is, and again, it is impressive. And they've taken very tough losses in the course of this, as has their civilian population."  
Senator McCaskil said though the US has made great progress against the Taliban in Afghanistan and Pakistan and the Al-Qaeda, he is worried about the LeT.  
"I know it's tricky because of the historical connection, between LeT and the Pakistani military and their government, because of the Kashmir area. But I do want to sound an alarm that I'm concerned about LeT and whether or not it is high enough on our priority list and whether we're putting enough pressure on Pakistan, as they've responded I think well," the Senator said. PTI