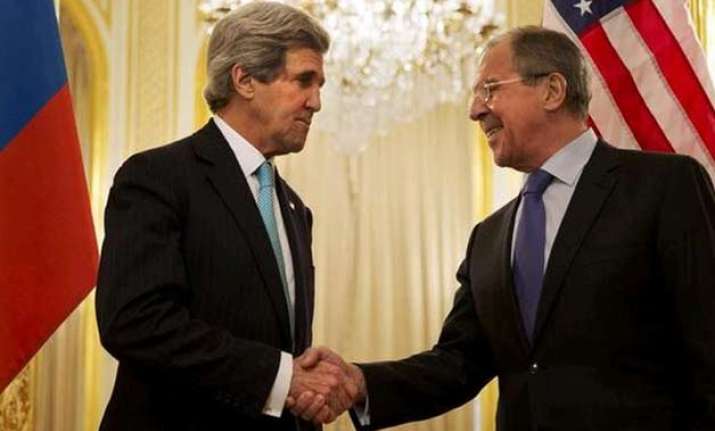 Washington: The US has voiced concern about Russia's decision to supply Iran with sophisticated air defence systems, expressing hope for continued cooperation over nuclear talks with Iran.
State Department spokeswoman Marie Harf on Monday said Secretary of State John Kerry raised US concerns once again in a phone call with his Russian counterpart Sergei Lavrov on Monday morning, Xinhua reported.
"We don't believe it's constructive at this time for Russia to move forward with it," Harf told reporters at a daily news briefing, adding "We think given Iran's destabilising actions in the region, in places like Yemen or Syria or Lebanon, that this isn't the time to be selling these kinds of system to them."
Russian President Vladimir Putin signed a decree earlier in the day lifting the ban on the sale of the S-300 air defence systems to Iran, a move Lavrov said will not "jeopardise security of any country in the region, including Israel."
Moscow and Tehran signed an 800-million-USdollar contract in 2007 to supply Iran with five S-300 systems, but then Russian President Dmitry Medvedev canceled the contract in September 2010 to comply with a UN Security Council resolution that banned the supply of conventional weapons to Iran.
In his defence of Moscow's decision, Lavrov called S-300 "a completely defensive weapon" and cited the tentative deal reached with Iran over its nuclear programme early this month.
Harf acknowledged that Moscow's move does not violate Security Council sanctions, saying "It's my understanding that it's not."
She said Washington does not think the division over S-300 will have an impact on the "unity" with Russia over the nuclear talks with Iran, as the US and Russia are joining Britain, China, France and Germany in negotiating with Tehran.
Harf said experts are expected to resume talks as early as next week, with Iran and the six major powers aiming for a final and comprehensive deal by the end of June.