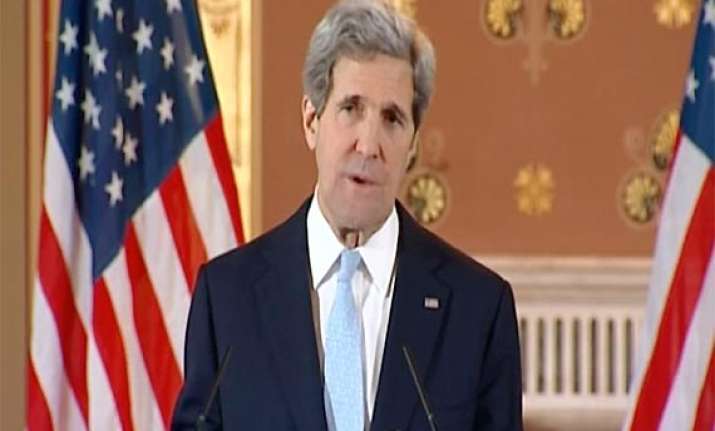 London: US Secretary of State John Kerry has accused Russia of destabilisation, distraction and deception in Ukraine and said his country will impose further sanctions if Moscow does not defuse the crisis in the eastern European nation, a media report said Friday.
"Not a single Russian official has called on the separatists to support the Geneva agreement, to support the stand-down, to give up their weapons and get out of the Ukrainian buildings," BBC quoted Kerry as saying.
Kerry has also accused Russian President Vladimir Putin of continuing to "fund, co-ordinate and fuel a heavily-armed separatist movement in Donetsk".
US intelligence has said that Russia was "playing an active role in destabilising eastern Ukraine" with personnel, weapons, money and operational planning.
Ukraine resumed its "anti-terror" operation in eastern regions after pro-Russian activists allegedly kidnapped and tortured several journalists and murdered a pro-government politician.
During "counter-terror" actions at three checkpoints set up by a pro-Russia militia outside the eastern city of Sloviansk Thursday, five protestors were killed and one Ukrainian officer was injured.
Putin called the "anti-terror operation" conducted by Ukrainian troops in the east of the country "a serious crime", warning of "consequences" if Kiev used the army against its own people.
"If the regime in Kiev started using troops against its population, this is a grave crime. We took part in the meeting in Geneva. We signed a series of agreements there, according to which both sides were to disarm, abandon public buildings, and so on," Putin said.
The crisis in Ukraine started with the ouster of president Viktor Yanukovych in February.
Crimea then acceded to Russia following a referendum March 18.
The move provoked international outrage among Western powers.
Pro-Russian protestors then began to occupy buildings in several eastern Ukrainian cities.
Russia denies fomenting separatism in eastern and southern Ukraine.