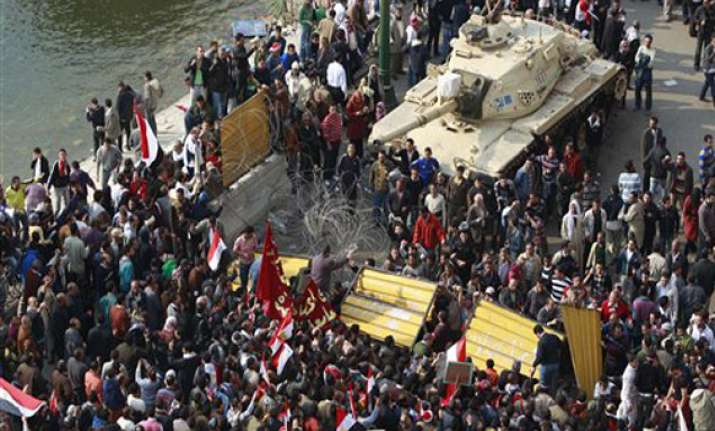 Cairo, Feb 11: Egyptian Army today came out in support of embattled President Hosni Mubarak who refused to step down and headed for the southern sea side resort of Sharm-al-Shaikh as angry protesters marched to his palace vowing to topple him.
Massive crowds thronged the streets of Cairo and other cities in what they called the "final stage" of their campaign to dethrone an autocratic regime.
Their elation turning into despair after Mubarak refused to budge from his position last night, the crowds moved out from the Tahrir Square on the 18th day of their protests, marching to the presidential palace and surrounding the state television building, institutions they consider as the symbols of the regime.
 As protests were held throughout the country with workers unions, journalists and clerics too joining in, reports indicated that Mubarak had left Cairo along with his
family and was headed to his residence at the Red Sea resort of Sharm al-Shaikh.
 Earlier in the day, the Army appeared to throw its weight behind Mubarak's transition plan, assuring them protesters that it will guarantee a free and fair election in September, and asking them to go home and get to work.
Hugely disappointed by the military's stand, the protesters pledged to take their campaign to a final stage, calling on millions to join the street protests on a 'Farewell Friday'.
The developments came a day after Mubarak appeared on television and dashed the hopes of the people by reiterating that he will step down only in September. The 82-year-old also announced that he would be transferring some of his powers to Vice President Omar Suleiman.
  The 'Go Mubarak, Go Suleiman' cry growing shriller, the infuriated protesters marched to the Abedeen palace after Friday prayers and almost laid a siege to it, amid a heavy military presence.
At the state television building, thousands blocked people from entering or leaving, accusing the broadcaster of supporting the current government and of not truthfully reporting on protests.
Tanks and military personnel have been deployed to bolster barricades around the presidential palace though there were no indications yet that the military intends to launch a crackdown.
 In a statement on state television earlier, the military had promised to lift a 30-year-old emergency law "as soon as the current circumstances end", besides assuring people that it would guarantee changes to the constitution.
But, the statement disappointed many people who vowed to take the protests to "a last and final stage".