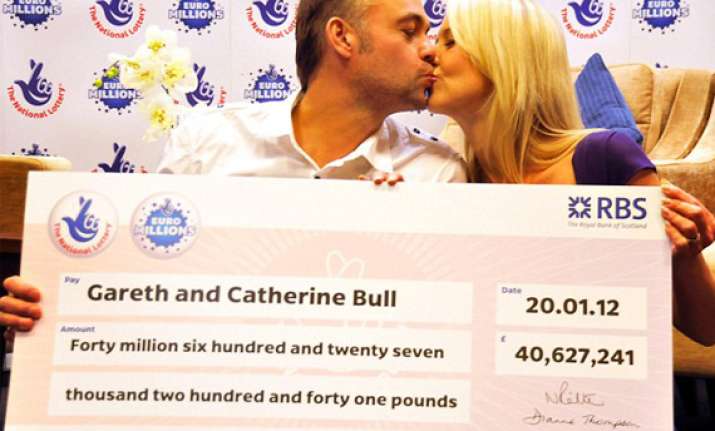 London, Jan 25: A Nottinghamshire couple has won £40,627,241 (Rs 315.95 crore) jackpot in the EuroMillions lotto.

But the mother of two who has scooped the latest £40million EuroMillions jackpot bucked the trend yesterday by declaring: 'I hate shopping.'

Catherine Bull, 35,  and her husband Gareth won the draw on Friday night, reports Daily Mail.


Asked if she planned to go shopping with her winnings, Catherine  Bull said : 'I have never been much of a shopper and I can't see that changing now. I already have home food delivery from Tesco because I hate shopping.

'And I have no style sense – I usually wear leggings and jeans. I want a new upstairs landing carpet. It's terrible – nobody is allowed to go upstairs.'
Despite their huge win the Nottinghamshire couple say they have 'no plans' to quit work or move out of their home.

Gareth Bull, a self-employed builder, bought the ticket on a whim after he was unable to work one day because it was raining.


The 40-year-old only realised the following morning that they had hit the jackpot.

On Monday afternoon Catherine Bull – who works in health insurance – said they were still so shocked they had not even told sons Joel, ten, and Declan, nine, about their good fortune.

Incredibly, the couple carried on with their weekend plans as normal, taking the boys to play in football matches and hosting a birthday sleepover.

The couple said their younger son would tell them off for buying lottery tickets. 'He always tells me it's a waste of money,'


Catherine Bull laughed. 'He might have something to say about that now.'

Gareth Bull built his family's six bedroom, six bathroom house in Mansfield himself.

The couple said it was already their 'dream home' and they did not want to move.

But they said they would consider buying a holiday home abroad – and would treat their boys to a family holiday in Disneyland Florida.

Gareth  would like splash out on a box at Old Trafford to watch his beloved Manchester United.

The couple also want to support charities with their new-found millions, particularly breast cancer research.


Gareth's  mother Edith suffered with the disease around five years ago and has since recovered.

Friends said the couple had 'worked hard all their lives' and deserved the money. 

Neighbour Sam Giles, 42, said Gareth Bull was a 'good, hard-working' bloke.

Friend Della Needham, 37, described Gareth as a 'devoted family man' and Catherine a fitness fanatic.

Their new £41m fortune may have made them as rich as Kylie Minogue, but Gareth and Catherine Bull are relatively poor when compared with other jumbo jackpot winners.


Their prize is only the seventh biggest won in the UK.

Colin and Chris Weir, from Largs, Scotland, scooped £161m last July, another anonymous ticket holder collected £113m and Dave and Angela Dawes scooped £101m in October.

The fourth-biggest prize winner in the UK won £84million in May 2010 on the EuroMillions.

In February 2010, Nigel Page and Justine Laycock, from Gloucestershire, broke the then record with a £56million win – now the fifth-biggest prize in the history of EuroMillions.


The sixth-biggest payout went to Les and Sam Scadding in South Wales who won £45millon in November 2009.

Overseas, the biggest ever single win was the £195million Andrew Whittaker pocketed in West Virginia, U.S., in 2002.