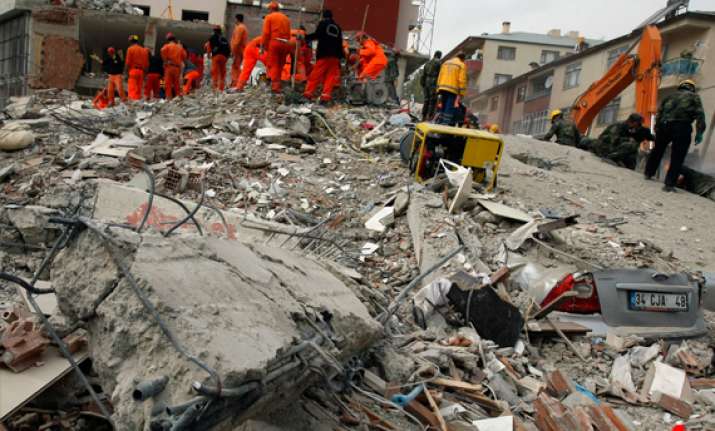 Ercis, Turkey, Oct 27: Turkish emergency workers on Wednesday pulled 27-year-old teacher Gozde Bahar alive from the rubble of a ruined building in Ercis, eastern Turkey, as her mother watched anxiously.

Bahar was rescued after a two-hour operation, having been buried under piles of concrete for three days after a 7.2 magnitude earthquake struck eastern Turkey on Sunday.

She was pried out by a 10-person team of Turkey's Civilian Defence Forces, and taken to a field hospital nearby to be treated for her injuries.

Paramedic Dr. Mesut Alci said her heart had stopped on the way but they were able to resuscitate her, and she was later evacuated by helicopter to the neighbouring city of Van for further medical treatment.

Another member of the rescue team, Ahmet Karacocuk, spoke of his delight at finding someone alive.

"Rescuing someone who has been buried for three days is amazing. Our team worked around the clock and we're very tired but today when we rescued Ms. Gozde out of there alive and well and put her on that helicopter? there's no one happier than us right now," he said.

Meanwhile, rescuers have pulled out a 19-year-old alive from the rubble of a collapsed building four days after a powerful earthquake hit eastern Turkey.

Television footage on Thursday showed rescue workers freeing the teenager who looked exhausted. He is the first to be pulled out alive since rescuers evacuated a university student and two teachers on Wednesday.

Rain and snow are compounding difficulties for the thousands rendered homeless in the earthquake that killed 481 people and shattered over 2,200 buildings.

Turkish authorities are delivering more tents Thursday and admit initial problems distributing aid.