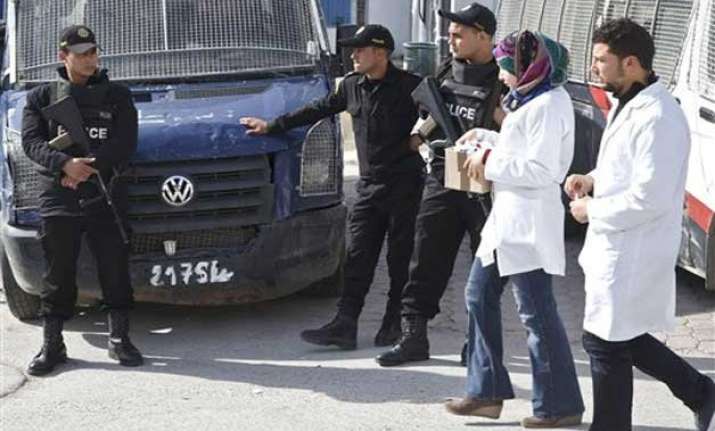 Tunis: One of the gunmen who killed 23 people, including tourists, at a prominent Tunisian museum was known to intelligence services, but no formal links to a particular extremist group have been established, the prime minister said today.
The attack yesterday on Tunisia's National Bardo Museum left 23 dead, scores wounded and threatens both Tunisia's fledgling democracy and its struggling tourism industry. It was the worst attack at a tourist site in Tunisia in years, and a leading cruise line announced it is now canceling its Tunisian stops.
Razor wire ringed the museum today and security forces guarded major thoroughfares in Tunis, the capital, as authorities hunted for two or three more people believed to have been involved in the attack.
Yesterday's two attackers burst from a vehicle wielding assault rifles and began gunning down tourists climbing out of buses. The attackers then charged inside to take hostages before being killed in a firefight with security forces.
A Spanish man and a pregnant Spanish woman who survived hid in the museum all night in fear and were retrieved safely Thursday morning by security forces, Tunisia's health minister told The Associated Press. Spain's foreign minister said police searched all night for the pair, Juan Carlos Sanchez and Cristina Rubio.
Tunisian Prime Minister Habib Essid, in an interview with France's RTL radio, said Tunisia was working with other countries to learn more about the attackers, identified as
Yassine Laabidi and Hatem Khachnaoui. They were killed by security services in a raid.
He said Laabidi had been flagged to intelligence, although not for "anything special."
No one has claimed responsibility for the attack. Tunisia has faced scattered extremist violence and a disproportionately large number of Tunisians have joined Islamic State fighters in Syria and Iraq.
The attack spells oceans of trouble for the tourism industry, which brings throngs of foreigners every year to Tunisia's Mediterranean beaches, desert oases and ancient Roman ruins - and which had just started to recover after years of slump. Two major cruise ships whose passengers had been among the victims left the port of Tunis early today.
Health Minister Said Aidi said the death toll rose today to 23 people, including 18 foreign tourists, with almost 50 people wounded. Five Tunisians were killed, including two attackers.
Aidi said all the injuries came from bullet wounds, and that several victims were brought in without identity documents.