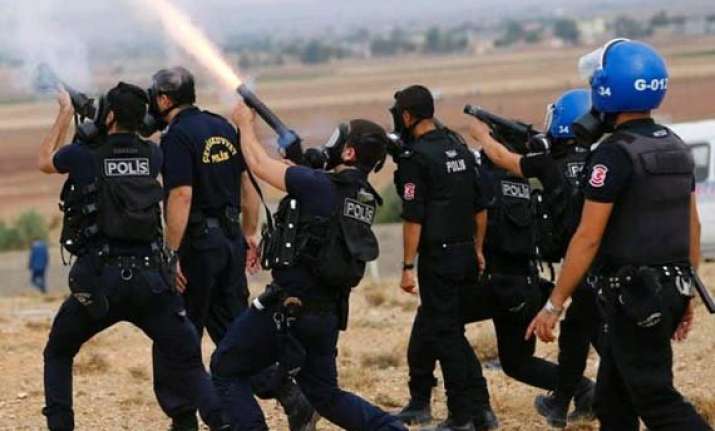 Ankara: The toll in the anti-Islamic State (IS) protests across Turkey rose to 24 Thursday, media reported.
Most of those killed were from the southeastern provinces where the Turkish government has declared a curfew to quell the unrest that has been fueled mainly by supporters of the outlawed Kurdish Workers' Party (PKK) and Hizbullah, a radical Islamist group in Turkey whose members are mostly Kurdish, Xinhua reported citing the private Dogan News Agency.
The Turkish authorities lifted the curfew in some provinces Thursday as violence subsided.
In a written statement Thursday, Turkish President Recep Tayyip Erdogan said the protests were aimed at sabotaging the peace process between Kurdish rebels and the government, as the Turkish authorities were holding peace talks with the jailed PKK leader, Abdullah Ocalan, to end decades of Kurdish insurgency.
Demonstrations erupted Monday and turned violent in protesting the Turkish government's failure to help prevent the Syrian Kurdish town of Kobani from falling to the IS.
The pro-Kurdish Peoples' Democratic Party (HDP), which is affiliated with the PKK, has been calling on the Kurds in Turkey to hold demonstrations against the IS's "attempt to massacre" Syrian Kurds in the city of Kobane.
The HDP urged the Turkish government to defend Syrian Kurds in the neighbouring country, where fierce clashes have dragged on between IS militants and Kurdish fighters for three weeks.