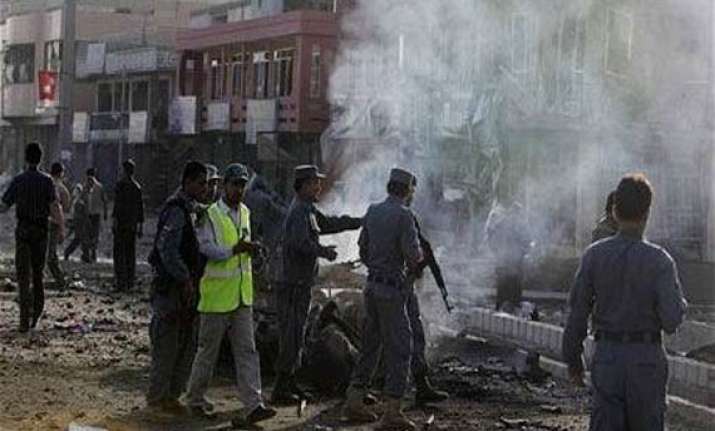 Kabul, Aug 19: Three large suicide explosions have rocked a British cultural centre in the Afghan capital Kabul on a public holiday marking Afghanistan's independence from Britain in 1919. Initial reports indicated that three or four people were wounded.  

The explosions, claimed by the Taliban, struck at the British Council offices in Kabul and witnesses reported that heavy gunfire was ongoing inside the compound. A third blast was heard later, but its cause was unclear.The British Council is an official organisation part-funded by London that promotes cultural relations in offices around the world.

The full extent of the casualty toll was not immediately clear but Kabul police spokesman Hashmat Stanikzai said initial reports indicated that three or four people were wounded.

"(There were) two explosions at the British Council but at this stage, we're still gathering facts," said Major Jason Waggoner, a spokesman for the NATO-led International Security Assistance Force (ISAF).

The explosions, carried out by suicide bombers, occurred in the Karte Parwan area of the city, near the Intercontinental Hotel and the residence of First Vice President Mohammad Qasim Fahim.

He could not say whether ISAF forces were providing assistance but an AFP reporter at the scene saw two large ISAF armoured vehicles arriving at the scene as gunfire intensified.A spokesman for the British embassy in Kabul said: "I can confirm reports of an attack against the British Council compound in Kabul." 

He added that the embassy was in contact with Afghan authorities at the scene but could not provide any information on casualties.Afghan police said that suicide bombers had struck at the scene.

"There have been two suicide explosions. My boys are engaged. I will give more information later," Kabul police chief Ayub Salangi said after an AFP reporter and witnesses reported hearing blasts and gunfire.Taliban spokesman Zabihullah Mujahid claimed the militant group leading a 10-year insurgency in Afghanistan was responsible for the attack.

"I was asleep when the sound of a heavy explosion woke me up," said Mohammad Aber, who lives over the road from the building."I went to the roof. I saw a car was on fire, and there was suddenly a second explosion, then the shooting started."

Britain is the second-largest provider of troops to the international military effort in Afghanistan after the United States, with around 9,500 forces mainly in the south.