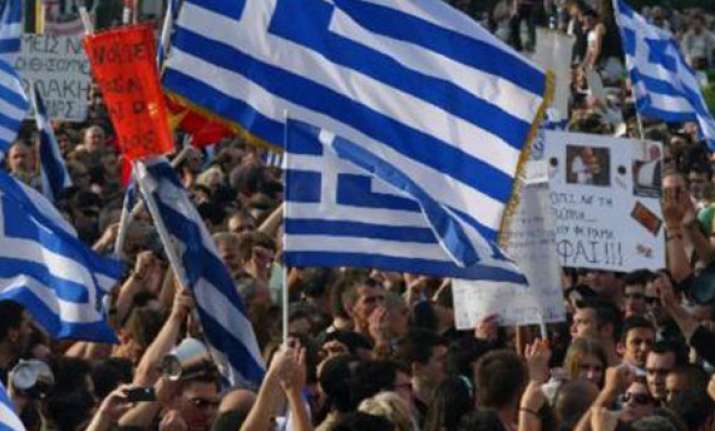 Athens, Feb  20: Tens of thousands of anti-austerity demonstrators took to the streets of Athens on Wednesday as unions staged a general strike to protest government spending cuts and tax hikes, which some predict will push unemployment to an alarming 30 percent.
Police said up to 40,000 people were participating in two separate marches in central Athens that were so far peaceful.
"We are protesting about (reduced) pensions, emergency taxes, the high cost of life," said retired factory worker Kyriakos Anastassiadis.
Unions are pressing for the renewal of binding collective labour contracts, instead of individual deals that allow employers greater leverage in defining salary levels. They are also asking the government to support the crumbling labour market, where roughly 1,000 jobs have been lost daily since 2010.
"The government wants to further lower our salaries and destroy unions," said unionist Vassilis Epicarithis, an aircraft engineer.
The 24-hour nationwide walkout disrupted domestic flights, kept ferries and long-distance trains idle and crippled public services. It was the first general strike of the year, renewing confrontation between labour groups and the conservative-led government that has pursued punishing austerity policies to cut debt a key condition imposed by international bailout creditors.
State schools and tax offices closed down, public hospitals functioned on emergency staff, court cases were stalled as lawyers walked off the job, and even neighbourhood street fruit and vegetable markets were cancelled. Private doctors and dentists also joined the strike.
In Athens, police said about 25,000 people were marching toward Parliament with banners such as "We won't become slaves in the 21st century," in a demonstration organised by the main public and private sector unions. Earlier, some 15,000 members of a Communist Party-affiliated labour union protested peacefully along the same route.
Previous protests have been marred by clashes between riot police and masked youths armed with fire bombs and stones. Up to 3,000 police officers were on duty for the Athens street rallies.
In the northern city of Thessaloniki, some 17,000 protested peacefully.
Conservative Prime Minister Antonis Samaras has won praise from bailout lenders for pushing through major cost-cutting measures after forming a three party coalition last June.
But a new round of tax increases this year and a surge in unemployment to 27 percent have angered unions, as Greeks battle a rapid increase in poverty during a sixth year of recession.