Follow us on Los Angeles, Jan 6 : A thief stole a car from a nearby house in Fresno, California, and while speeding in foggy condition, hit some rocks, launching the vehicle 20 feet into the air, and on the roof of a house.
Benjamin Tucker, the thief,  jumped from the roof, broke his leg, but was arrested from his ex-girlfriend's house later, reports Daily Mail.
Residents were stunned when they heard a 'thud' on the roof of their Fresno, California apartment block at 1.30 a.m. - and looked outside to see a car parked there.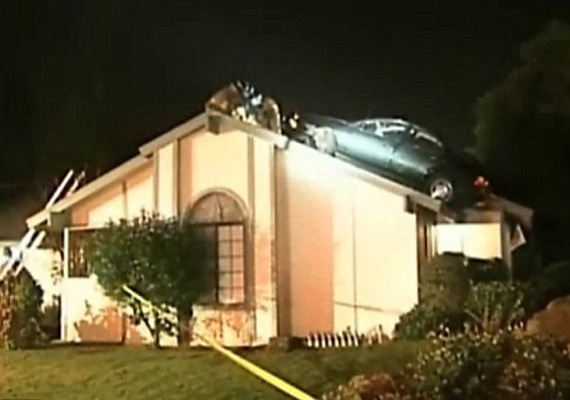 The driver, who allegedly stole the car from a nearby house, was speeding in foggy conditions when he hit the curb and some rocks, launching the vehicle 20 feet into the air.

The car miraculously landed on the sloped roof of the apartment block, where it came to a standstill. 'I thought it was an earthquake. I heard the house moving,' Jeanell Ricks, who was inside the block, told CBS News. 

Ralph White, who was also inside at the time of the crash, said: 'We just looked on the roof because saw stuff falling and stuff smoking. So we looked in there and my cousin was like: "It's a car on the roof".
'Everybody is still in shock. It's crazy.'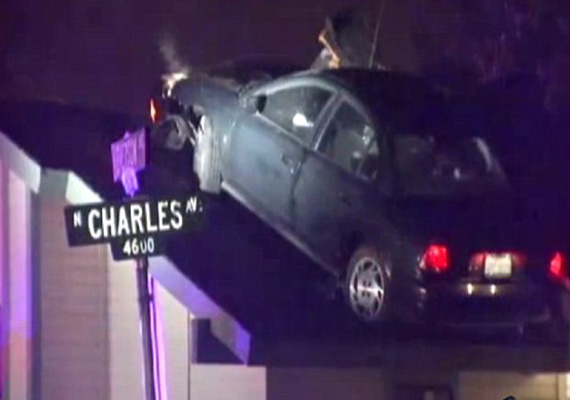 A crane removed the car from the roof. No one inside the building was injured

He was found and arrested at his ex-girlfriend's house a quarter of a mile away, according to CBS News. 

He had allegedly stole the car from the woman's house just minutes earlier.He was taken to hospital for treatment.
Tucker, who already had two outstanding warrants for his arrest, was arrested and faces charges including hit-and-run and running away from an officer. They are investigating whether drugs or alcohol are involv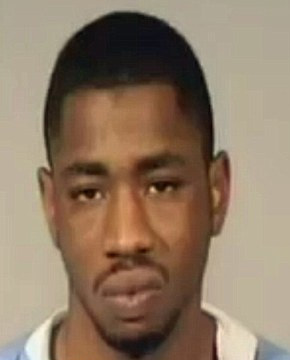 Anthony Martinez, from the Fresno Police Department, told KFSN-TV:
'I've been a police officer for 22 years and I have never seen anything like this in my life.

''When I was on my way out here, my officers told me that they thought Santa was driving car.
But I realised that was just a joke.'I really don't know how the car got up there,' he added.

The car was later taken off the roof by a crane.

Neighbours crowded the streets, taking photos on their mobile phones, as emergency services attended the scene.
'I don't know how it landed so perfectly on the roof but it was a miracle I guess,' neighbour Francisco Perez said.