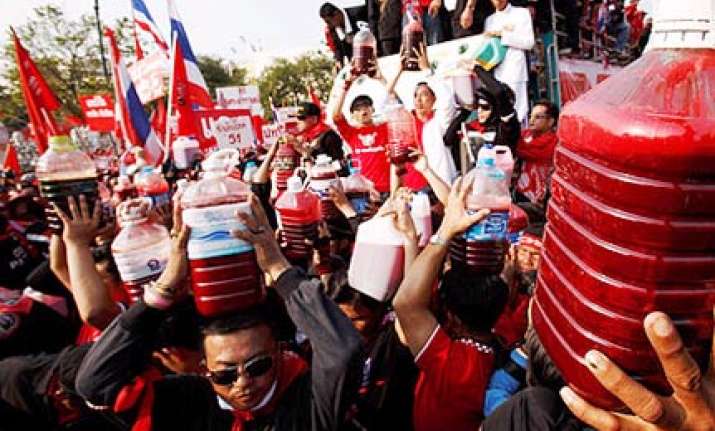 Red-shirted opposition supporters went to the home of Thailand prime minister Abhisit Vejjajiva, to pour out their own blood in a symbolic protest against the government, reports Al Jazeera.
Thousands of protesters moved across the capital in lorries, cars and motorcycles to the affluent neighbourhood in the Sukhumvit district to repeat their demand that Abhisit dissolve his government and call national elections.
The move came a day after similar so-called "blood sacrifices" were made at Abhisit's office and the headquarters of his Democrat Party.
On Tuesday, the Red Shirts collected hundreds of litres of their own blood that was symbolically spilled at the gates of Government House.
Police said more than 10,000 protesters remained in Bangkok on Wednesday, a far lower number than the 100,000 estimated to have been there when it began at the weekend.
Despite the dwindling numbers, protest leaders pleaded for patience saying that success was within their grasp, before the crowd left for the prime minister's empty and heavily-secured residence.
"We are near victory... If we make a mistake now we will be defeated for a long time. We want a sustainable victory so please be patient," Jatuporn Prompan, a Red Shirt leader, said.
About 900 security personnel are on guard at Abhisit's residence, which has been hit several times in recent weeks by protesters throwing bags of excrement at the walls.
Abhisit has been staying with other key leaders at an army barracks in the capital's northern outskirts since the rally began at the weekend.
The prime minister was due on Wednesday to fly to Thailand's far south, where a six-year separatist insurgency continues.
Illegitimacy claims
The protest is led by the United Front for Democracy Against Dictatorship loyal to Thaksin Shinawatra, the former prime minister, who was deposed in a 2006 military coup.
The so-called Red Shirts are protesting against the perceived elitism and illegitimacy of the Abhisit government, which came to power via a December 2008 parliamentary vote after a controversial court ruling ousted Thaksin's allies.
Security was tightened at Abhisit's residence in an upscale Bangkok district
Abhisit has twice rejected the protesters' demand to dissolve parliament, saying he must think of the country's interests and not only those of the Red Shirts.
Red Shirt leaders have been using their rally stage to appeal for more protesters to arrive from the provinces.
Thaksin, who lives in exile to avoid a two-year jail term for graft at home, has been addressing the crowd via video link each night urging them to fight on.
Thailand has been in political turmoil since early 2006, when anti-Thaksin demonstrations began.
In 2008, when Thaksin's political allies came back to power for a year, his rival "Yellow Shirt" occupied the prime minister's office compound for three months and seized Bangkok's two airports for a week.
Bloody ritual
In Tuesday's blood-letting a few teaspoons of blood were drawn from each protester and transferred into dozens of large plastic water jugs that were passed overhead through the cheering crowd to be splattered at key locations.
Riot police allowed protest leaders to approach the front gate of Government House and pour out the blood, which oozed under the gate as national television broadcast the images live.
A medium was summoned to perform a ritual invoking a curse against the government
A purported Brahmin priest in ceremonial robes performed an unorthodox black magic ritual on behalf of the Red Shirts.
"The blood of the common people is mixing together to fight for democracy," Nattawut Saikua, a protest leader, told supporters.
"When Abhisit works in his office, he will be reminded that he is sitting on the people's blood."
Minutes later, a government medical cleanup team in white coats, face masks and rubber gloves hosed down the site.
Health authorities had earlier warned that the protest risked spreading disease if infected blood splashed bystanders.
Surat Horachaikul, a political scientist at Bangkok's Chulalongkorn University, said he believed the protest organisers lacked plans for their next step and expected the rally to end in a few days.
"If nothing comes out of this rally, the government is likely going to become more stable," he said.
"Their movement will continue to put some pressure on the government, but Abhisit's administration will be able to stay in power in the next 8-12 months."