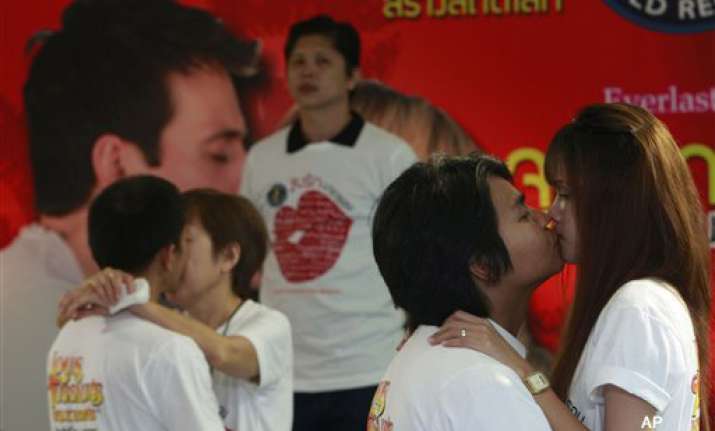 Bangkok, Feb 14 : Couples in the Thai tourist resort city of Pattaya marked Valentine's Day on Monday by attempting to break a Guinness world record for the longest ever continuous kiss.
The contestants are aiming to beat the previous longest-kissing world record of 32 hours, 7 minutes and 14 seconds that was recorded in Germany in 2009.
If the lovebird's lips part, even for a moment, they will be disqualified from the competition.
They're also not allowed to sit or sleep.
Making the competition even more difficult, couples have to stay in a one square metre space together, only leaving the area for toilet breaks.
They even have to continue kissing while using the toilet and staff accompanying them to make sure they do.
The winner will receive a diamond ring worth one thousand British pounds (1,606 U.S. dollars) and a two thousand British pound (3,213 U.S. dollars) cash prize.
One woman participating with her boyfriend fainted after just 34 minutes.Others quit after a few hours.To break the record the contestants will have to keep their lips locked together until at least 0700 GMT.  AP