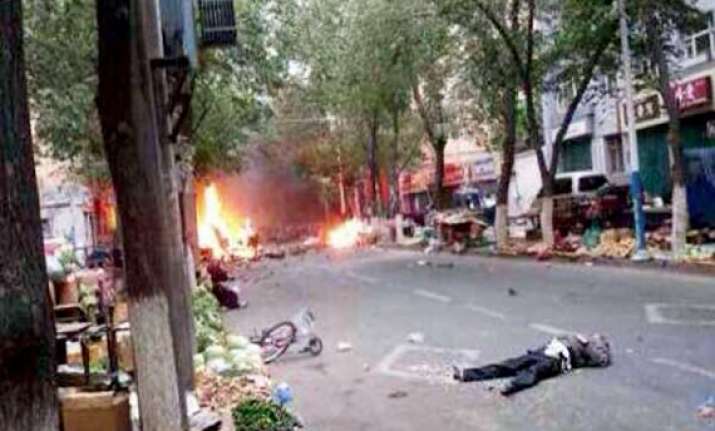 Beijing: Dozens of civilians were killed or injured in a major terror attack by knife-wielding extremists in China's restive Xinjiang province, home of the native Muslim Uygurs, on the eve of Eid festival, police said today.
A gang armed with knives attacked a police station and government offices yesterday in Elixku Township in Shache County, Kashgar Prefecture. Some of the attackers then moved on to the nearby Huangdi Township, attacking civilians and smashing vehicles as they passed.
Dozens of Uygur and Han civilians were killed or injured in the attack, state-run Xinhua news agency quoted local police as saying.
Police officers at the scene shot dead dozens of members of the mob. Thirty one cars were vandalised, including 6 which were set on fire, it said.
Initial investigation showed that it was a premeditated terror attack, the report said.
Dilxat Raxit, a spokesman for the exile World Uyghur Congress, said in an e-mail message to media that more than 20 Uighurs were shot dead by armed authorities while 10 were injured.
A total of 13 Chinese security personnel were killed and injured, he said quoting a local source.  About 67 people have been arrested after the attack.  The attack came on the eve of Eid festival which was celebrated by China's over 20 million Muslims in Xinjiang and other parts of the country.
Xinjiang, home to Uighur Muslims, is in turmoil over the increasing settlements of Han Chinese from other parts of the country. The violence has now spread to other parts of China.  Uighurs are a Turkic-speaking Muslims with ethnic fraternity in Turkey, bordering Syria.
Beijing accuses al-Qaeda backed East Turkestan Islamic Movement (ETIM), which had bases in Pakistan's tribal areas, for the unrest in the region.
Chinese security forces launched an-year-long crackdown against the militants after a spate of bomb attacks in Urumqi, provincial capital of Xinjiang which border Pakistan Occupied Kashmir (POK)