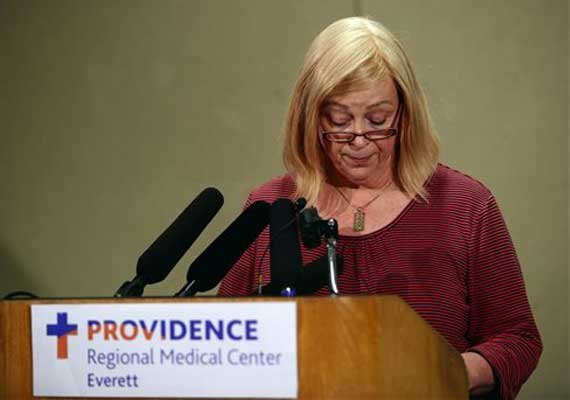 Marysville, Washington: One of the teenagers wounded in a Washington state high school shooting died on Sunday night, raising the number of fatalities from when a student opened fire in a cafeteria to three.
Officials at Providence Regional Medical Center Everett confirmed the death of 14-year-old Gia Soriano. Another girl was killed during the shooting on Friday by a first-year student at Marysville-Pilchuck High School north of Seattle. The shooter, Jaylen Fryberg, died of a self-inflicted wound.
Three other students remain hospitalised, two in critical condition and one in serious condition.
At a news conference, Dr. Joanne Roberts read a statement from Soriano's family.
"We are devastated by this senseless tragedy. Gia is our beautiful daughter, and words cannot express how much we will miss her," the statement said.
Dr. Roberts said Soriano's family was donating her organs for transplant.
Of the wounded students, only 14-year-old Nate Hatch showed improvement, though he remained in serious condition in intensive. Fifteen-year-old Andrew Fryberg also remained in critical condition in intensive care. Both are cousins of Jaylen Fryberg.
Meanwhile, 14-year-old Shaylee Chuckulnaskit remained in critical condition in intensive care.
Fryberg died in the attack after a first-year teacher intervened. It's unclear if he intentionally killed himself or if the gun went off in a struggle with a teacher.