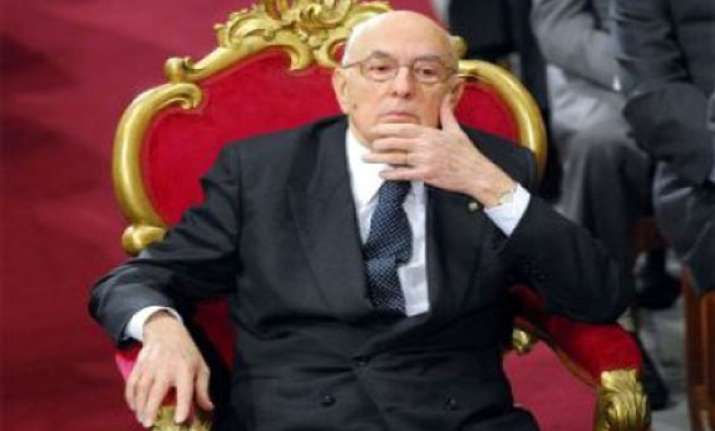 Rome: Italian President Giorgio Napolitano began consultations to form a new government Friday, following resignation of Prime Minister Enrico Letta.
The presidents of the Senate and the Lower House, Pietro Grasso and Laura Boldrini respectively, were the first to meet with Napolitano at Quirinale presidential palace in Rome, for what it has been announced as a very swift round of talks, Xinhua reported.
Napolitano also met with representatives of two minor groups in parliament and will resume talks with the leaders of bigger parties Saturday morning.
According to a presidential statement, talks would end by Saturday to see if a parliamentary majority supporting a new appointed premier can be realised as soon as possible.
Florence mayor Matteo Renzi is expected to be given the mandate, since he is the leader of the centre-left Democratic Party (PD), the largest one in the Parliament.
The mandate for Renzi, 39, may arrive as soon as Sunday. If expectations are confirmed, he will be the youngest prime minister in the history of the Italian Republic.
After accepting Letta's resignation Friday morning, Napolitano stressed very clearly he would like to conduct consultations in the shortest time possible in order to find "an efficient solution to the crisis, which is most needed to deal with the delicate economic situation and to work on a new electoral law and other urgent reforms," the statement said.
Indeed, the new political crisis in Italy broke out against a backdrop of worrying economic conditions.
Letta, appointed in April to lead an unstable coalition of left, right and centrist forces, was put under increasing pressure by his own Democratic Party, since Renzi was elected new PD leader in December.
Letta was blamed for the slow pace of his cabinet in implementing reforms that could boost the recovery.
He resigned Friday morning, after two months of bitter confrontation, following the decision of the PD to back Renzi in his call for a new government.