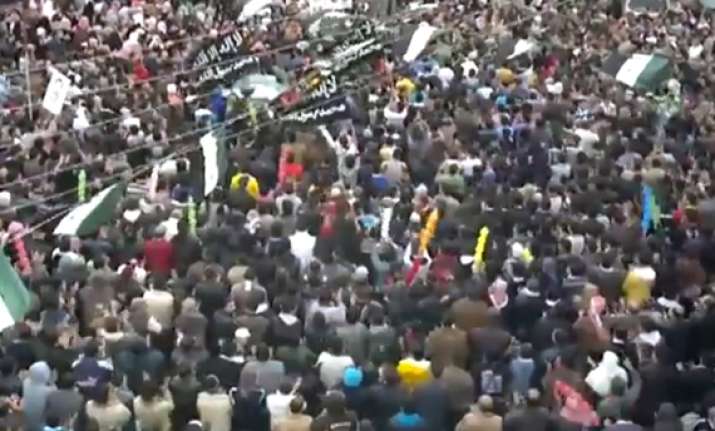 Damascus, Jan 14: Thousands protested on Friday in support of the rebel Free Syrian Army as Moscow kept up its opposition to calls for tougher action against Damascus, calling them flagrant attempts at regime change. 

Both France and Syria, meanwhile, announced investigations into the death of French television correspondent Gilles Jacquier, the first Western newsman to die in Syria since anti-regime protests erupted in March. 

The street rallies followed a day in which security forces killed 15 civilians in their crackdown, and came after the largest civilian opposition group decided to boost cooperation with the rebel Free Syrian Army (FSA). 

Security forces deployed in strength—as on every Friday over the past 10 months for the main weekly protests— killed at least eight people, the Syrian Observatory for Human Rights told AFP in Nicosia.

It said four people were killed in Homs, one in Hama, including a 17-year-old, both in central Syria, one in Damir near the capital, one in Idlib province of the northwest and one in the northern region of Aleppo. 

Around 20,000 people turned out in the Idlib town of Ariha calling for the overthrow of the regime, and another 15,000 massed in the Damascus suburb of Douma, according to the Britain-based rights group.

Burhan Ghaliun, head of the Syrian National Council, an umbrella group that initially opposed the use of force in the uprising, met yesterday with rebel army chief Colonel Riad al-Asaad.

They agreed to "formulate a detailed plan, to include the reorganisation of FSA units and brigades, and the creation of a format to accommodate within FSA ranks additional officers and soldiers, especially senior military officials, who side with the revolution," the SNC said.