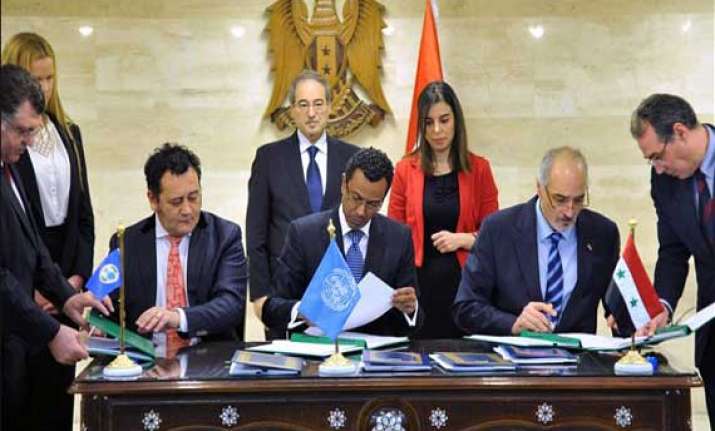 United Nations : The international mission in charge of removing chemical weapons in Syria has voiced its concerns that Syria has missed the April 13 deadline, which Damascus pledged to get rid of all its stockpiles of chemical weapons, a UN spokesperson said Monday.
The Joint Mission of the Organisation for the Prohibition of Chemical Weapons and the United Nations (OPCW-UN) "were concerned that Syria has missed the 13 April timeline", Xinhua quoted UN spokesperson Stephane Dujarric as saying at a daily news briefing.
"It expects an intensification of efforts and immediate action to initiate the high pace and scale of operations for the removal of all chemical weapons materials as safely as possible by 27 April," Dujarric said. "Missing the 27 April timeline could have serious impact on the completion of the elimination of Syria's chemical weapons program by 30 June."
"It is up to the member states to discuss the progress of the operation, based on factual input from the Joint Mission," he said, adding that the current pace "is of serious concern" for the mission.
Earlier, the OPCW said in The Hague that about 65 percent of chemical weapons have been removed from Syria.
"The Syrian government has completed the delivery of another 13th batch of chemical agents. It was put on a ship and taken out of the country," the organisation said. "The previous batch was evacuated on April 10."
The removal of the most critical material for destruction began in early January, in line with an agreement brokered by Russia and the US under which Syria renounced its chemical weapons material and joined 1992 Convention on the Prohibition of the Development, Production, Stockpiling and Use of Chemical Weapons.