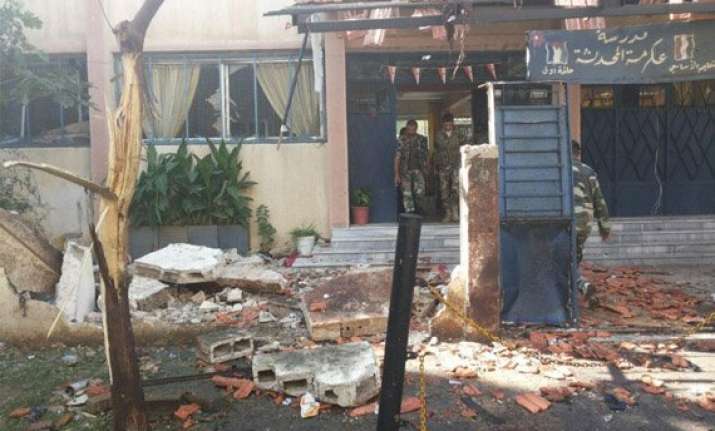 Beirut: Hundreds of people took to the streets of the Syrian city of Homs today, demanding its governor resign after a suicide bomber killed 47 schoolchildren, a monitoring group said.
The protesters vented their anger at Governor Talal al-Barazi over the deadly attack in a loyalist neighbourhood of the government-controlled central city, not at the Damascus government, the Syrian Observatory for Human Rights said.
"Hundreds of people are protesting, chanting slogans against the governor," Observatory director Rami Abdel Rahman said.
"The protest began as a mass funeral for the children, but morphed into a demonstration as residents vented their rage over Wednesday's school attack," he said, adding that the protesters accused Barazi of downplaying the death toll.
The Observatory updated its own toll to 47 children killed in the double bombing by a lone suicide attacker against the school.
"Fifty-four people were killed -- 47 schoolchildren aged under 12, four adult civilians and three members of the security forces," said the Britain-based monitoring group, which has a wide network of sources inside Syria.
State media and Barazi had reported some 30 killed. The school lies in the Akrameh neighbourhood of the city, whose residents are mainly Alawite, like President Bashar al-Assad.
A pro-government Facebook page, the Homs Youth Club, posted amateur video purporting to show Thursday's protest.
"The people want the fall of the governor," chanted protesters, echoing the slogans chanted early in the 2011 Arab Spring-inspired revolt against Assad that later morphed into a brutal civil war.
Homs was dubbed the "capital of the revolution" until the army reclaimed the whole of the city in May this year, except for the rebel-held, outlying district of Waar.
The army's takeover came after two years of bombardment and suffocating siege. On Thursday, according to state news agency SANA, schools across Homs observed a minute of silence at the end of classes to honour the child victims of Wednesday's attack.
The agency described yesterday's killings as "a horrible human tragedy." Anti-Assad activists too condemned the bombing.
"May the souls of the martyred children rest in peace, and shame on their murderers," said Omar al-Idelbi, a prominent activist involved in the revolt since its start. Majeda, an exiled activist, meanwhile criticised via Facebook those who celebrated the killings.
"The children are completely innocent, yet it is they who pay the price," she mourned.
The Observatory's Abdel Rahman said four of the child victims were from the same family, and that a mother and father who had gone to the school to collect their children were among the dead.
Syria's war began as a peaceful revolt demanding democratic reform, but later transformed into a brutal war that has killed more than 180,000 people and forced nearly half the population to flee their homes.