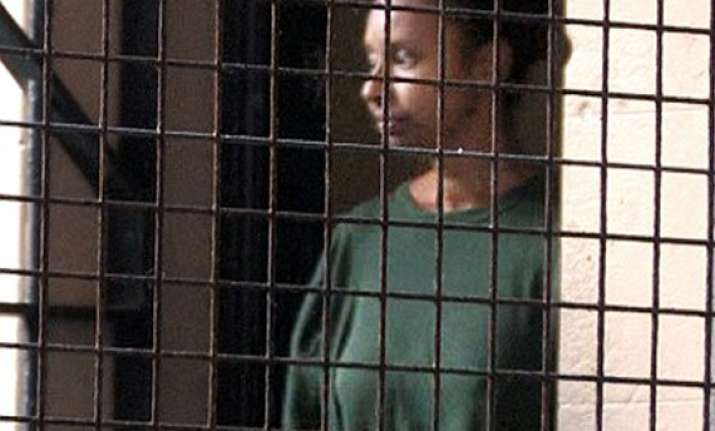 Sydney, Feb 11: Fortythree-year-old Mrs Rajina Subramaniam, working as an accountant with a finance company,  stole more than £30 million from the  company  and spent millions in a single lunch hour.

She was sentenced to 15 years imprisonment on Friday, Daily Mail reported.

Rajina Subramaniam, who bought  jewellery, houses and even gave away hundreds of thousands of pounds to shop assistants, was outlined by Judge Michael Finnane in the New South Wales District Court.

                                             


While she was stealing the money, accountant  Rajina Subramaniam was also having a three-way sexual relationship with her boss and her husband, the trio meeting in motel rooms or in the couple's home.

Her crime of siphoning the fortune out of the ING Holdings accounts was the largest case of fraud by one woman in Australia's history.

With the money she went on a fantastic shopping spree, buying up at least 600 pieces of jewellery from brands that included Tiffany, Tag Heuer, Bulgari and Paspaley.

She also bought 200 Chanel perfume and make-up products, designer clothing from Chanel, Armani and Hugo Boss as well as a £400 bottle of Moet and Chandon Dom Perignon champagne.




With the many millions she had left over, she spent more than £12 million on prestige properties near Bondi beach, at Sydney harbour and the city centre, most of them remaining empty except for one, for which she did not charge any rent.

When police went to Mrs Subramaniam's Sydney workplace they found 21 boxes stored under her desk.

'When these boxes were searched, police found large quantities of jewellery, fountain pens, champagne crystal and Michael Jackson memorabilia,' said Judge Finnane.

'Much of the jewellery was still in boxes that had not been opened.'

Outwardly, he said, Mrs Subramaniam was leading a normal life with her husband in a suburban house and none of the money was used to pay off any of their debts.




'The agreed facts demonstrate that she became accepted as a wealthy woman and a very desirable customer of a number of large jewellery firms,' said the judge, pointing out she would spend millions of dollars in a single lunch hour and lavished gifts on the shop assistants.

'Each of them received commissions for sales to her and giving presents to them in my opinion is consistent with her wanting to be accepted and praised,' he said.

'Her gifts of $1.3 million (£886,000) to one shop assistant and something like £240,000 (£163,000) to another shop assistant are consistent with her wanting to be loved and accepted.'

Referring to Mrs Subramaniam's sexual encounters, he said that some years after joining ING she became involved in a sexual relationship with a supervisor.

Her husband was not only aware of the relationship, but engaged in three-way sexual encounters with his wife and the man.

             


The judge said that Mrs Subramaniam felt this was an 'abusive relationship' and it contributed to a sense of resentment towards the company - and a desire for revenge.

But he added that while the sexual activity may have been abusive in her mind, it appeared to have been consensual.

He sentenced Mrs Subramaniam, who pleaded guilty to 22 counts of obtaining benefits by deception and four of dealing with the proceeds of crime, to a maximum term of 15 years in jail.

But he set a non-parole period of seven years because of the need for extensive psychological counselling.

He noted that she had been abused by her grandfather as a child, which had left her with a personality disorder.