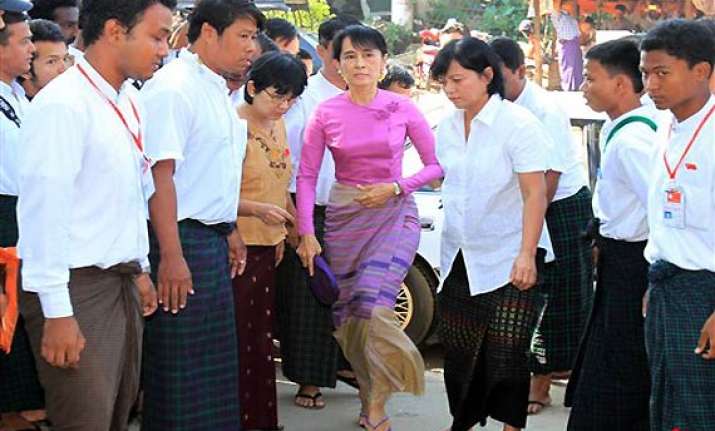 Yangon (Myanmar), Nov 18: Myanmar's main opposition party led by Nobel laureate Aung San Suu Kyi decided today to rejoin politics and register for future elections, signaling its confidence in recent reforms by the military-aligned government.

The National League for Democracy party "has unanimously decided to re-register as a political party ... and will run in the elections," said a party statement issued at the end of a meeting of senior members from all across the country. 

Earlier, member after member, including Suu Kyi, spoke out in favour of joining the political arena because of reforms initiated by the nominally civilian, but military-aligned government, which have drawn cautious approval from even its most bitter critic, the United States. 

President Barack Obama announced today that Secretary of State Hillary Clinton would visit early next month, the first such trip in more than a half-century after what he said were "flickers of progress" in Myanmar.

The NLD refused to register last year because of a restriction that would have prevented Suu Kyi from running.  The restriction was lifted this year by the new government that took office following the November 2010 elections held by a long-ruling military junta as part of its promise to restore democracy and relinquish power. 

"Personally I am for re-registration," Suu Kyi said in her speech to the delegates, gathered at the party headquarters in Yangon.

Any party that registers itself is required to run for at least three seats in the still-unscheduled by-elections for the 48 vacant seats in Parliament. The legislature comprises 224 members in the upper house and 440 members in the lower house.

"Instead of participating in three seats in the by-elections, I would prefer to take part in all 48 seats," Suu Kyi said. When that happens, it would be the first electoral test of NLD's popularity and that of Suu Kyi in more than two decades.

It is likely that Suu Kyi would run for office.  The NLD's refusal to register last year was mainly because of an election law that required political parties to expel members who were incarcerated. The clause appeared to target Suu Kyi, who was then under house arrest by the military regime. The NLD subsequently boycotted the November 2010 elections.

However, Myanmar's new civilian government, headed by a former army officer and prime minister in the junta, has shown a willingness to deal with Suu Kyi. It also has lifted some restrictions on the Internet, legalized unions and scrapped an unpopular dam project.

Bringing Suu Kyi's party back into the fold would give the government greater legitimacy at home and abroad. 

"The NLD has to re-register if the party wants to join the political arena. The political climate has changed compared to 2010 and we have to make a practical decision," said Aung Myo, an NLD member from Sagaing region. 

The NLD overwhelmingly won a 1990 general election, but the ruling junta refused to honor the results. The military regime kept Suu Kyi under house arrest during different periods for a total of 15 years. She was freed just after the elections and is now free to move about and meet people.

The government also continues to hold hundreds of political prisoners although there are moves to free many of them.