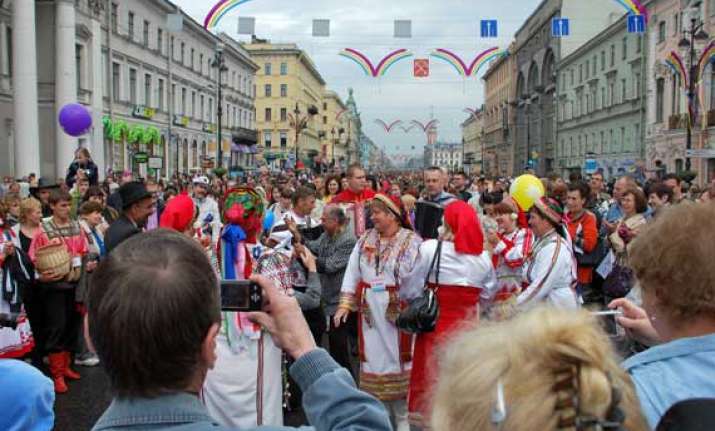 Moscow: St. Petersburg, known as Russia's cultural capital, celebrated the 311th anniversary of its founding yesterday with a series of ceremonies and activities involving the general public.
After a busy weekend of preliminary celebrations coinciding with the hosting of the St. Petersburg International Economic Forum, the city's official birthday was marked at 10 a.m. Tuesday with the laying of flowers at a memorial to the city's founder, Peter the Great, Xinhua reported.
At 11:45 a.m., an official ceremony was also conducted at the Peter and Paul Fortress, where the building of Peter's dream city began in 1703.
Residents of St. Petersburg and visitors to the city were also treated to a range of events designed to mark the occasion.
St. Petersburg's iconic Summer Garden hosted an outdoor concert featuring the Northern City Orchestra, while several of the city's world-famous theatres joined forces to host Theatre for All, an initiative offering visitors a look behind the scenes at some of the institutions that have helped make St. Petersburg a capital of Russian and world culture over the past three centuries.
In the city's Konyushennaya Square, the opening of a revolutionary multimedia project dedicated to the work of artist Vincent van Gogh confirmed St. Petersburg's status as a leading source of 21st-century innovation in the sphere of culture.