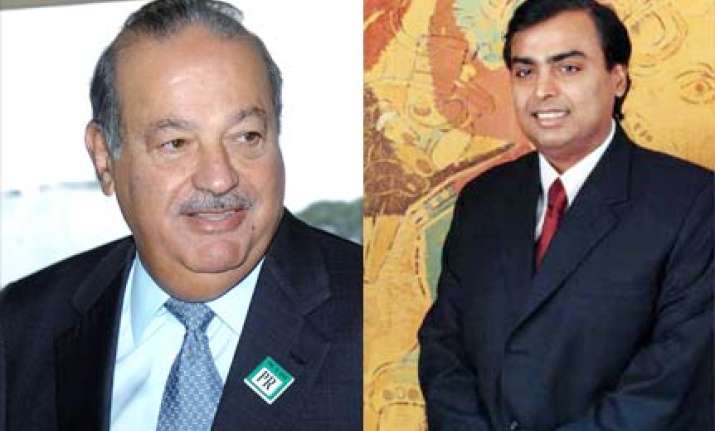 Mexican billionaire Carlos Slim has emerged as the richest person in the world with USD 53.5 billion in assets, while Indian industrialist Mukesh Ambani ranks fourth with USD 29 billion in the US magazine Forbes annual list of world's top billionaires.  
Slim is followed by William Gates III (popularly known as Bill Gates) with a net worth of USD 53 billion and Warren Buffet at the third spot with assets worth USD 47 billion.  
NRI billionaire Lakshmi Mittal with a net worth of USD 28.7 billion ranks fifth while Mukesh's younger brother Anil Ambani is at the 36th spot with USD 13.7 billion.  
There are 1,011 billionaires in the world now, up from 793 a year ago.  
Gates has held the top spot for 14 of the past 15 years in the past. "The Microsoft founder is now worth USD 53 billion, up USD 13 billion from a year ago," Forbes said.  
There are just two Indians in the list of top 10 richest persons across the world.   
The only woman to be on the top ten list, at number ten, is German entrepreneur Karl Albrecht, who founded the Aldi supermarkets and has a net worth of USD 23. 5 billion.  
The United States has 403 billionaires- the most in the world followed by China that beat out Russia to grab the second spot.  
Although China has larger number of billionaires than India, ten of Asia's top 25 are Indian while China has one.  
Hong Kong and Japan each have five and China has one in Asia's top 25.  
New York has more billionaires than any other city.  
The youngest billionaire who has a net worth of four billion dollars is 25-year-old Mark Zuckerberg who created Facebook.  
The list of Indian billionaires include Mukesh Ambani and L N Mittal in the top two along with Azim Premji ( USD 17 billion), Anil Ambani (USD 13.7 billion), Shashi and Ravi Ruia (USD 13 billion), Savitri Jindal (USD 12.2 billion), Kushal Pal Singh (USD 9 billion), Kumar Birla (USD 7.9 billion), Sunni Mittal (USD 7.8 billion) and Anil Agarwal (USD 6.4 billion dollars). PTI